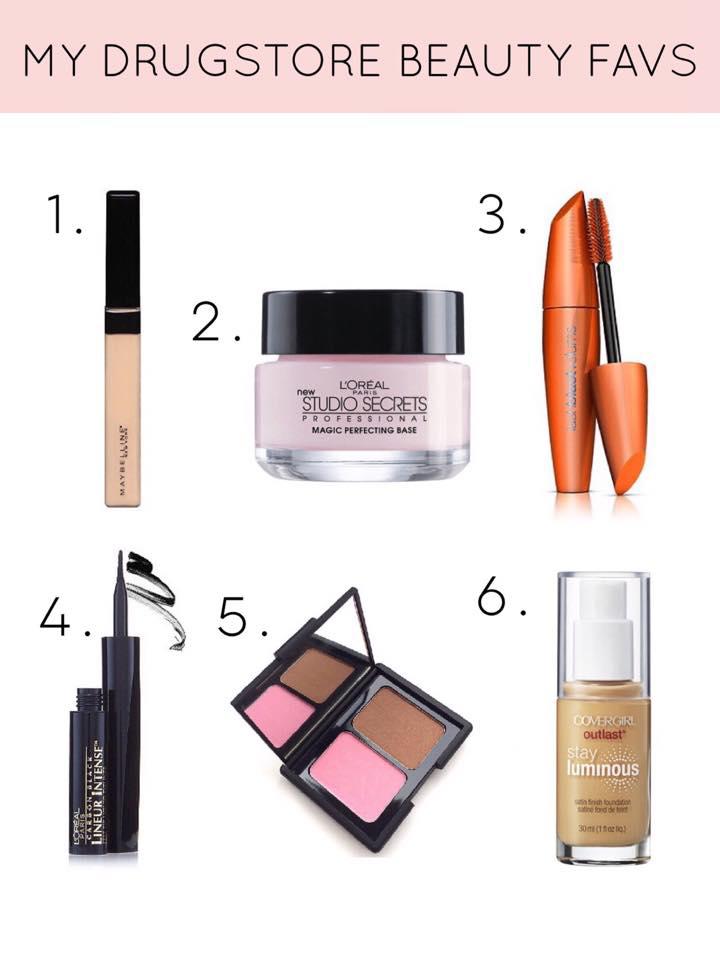 Happy Thursday! Today I'm sharing with you my favorite drugstore beauty products! As much as I love high-end makeup, it gets pricey when you add in all the necessary products to create your full face of makeup. Instead, I like to purchase the essentials from the drugstore, and only purchase a few high-end products to add in here and there to mix up my routine.

These are my must-have products that I stand by, some of which I've used for almost 10 years! I've repurchased each of these countless times and I wanted to share with you the items I recommend most and continue to love.
1. Maybelline Fit Me Concealer
This is definitely a go-to for me! It's the closest dupe I've found to NARS Radiant Creamy concealer, which is the best high-end concealer I've ever used. It provides excellent coverage while still feeling light and smooth on your skin. I have never had any issues with it creasing, and it's a product I've repurchased time and time again — you can't beat the price!
2. L'Oréal Magic Perfecting Base Primer
I'm always hesitant to wear a primer because I don't love the idea of adding yet another layer of makeup to my skin, but this one is awesome! It's super light and smooth and provides the perfect base for your foundation, while still feeling weightless. I've used it as solely an eye primer as well and had great results with it.
3. CoverGirl LashBlast Volume Mascara
I'm not kidding when I say I've worn this mascara for basically 10 years. I've tried tons of other brands and I always find myself going back to this one! The brush makes evenly coating your lashes so effortless, and I've never had any issues with clumping. I would categorize this mascara as a perfect medium between a wet formula and a dry formula. The waterproof version is amazing as well and is perfect for the beach!
4. L'Oréal Lineur Intense Brush Tip Liquid Eyeliner
I couldn't even tell you how many bottles of this I've purchased, it's just that good. With a generous and even coat, my eyeliner stays put all day. I've been doing winged eyeliner with this product everyday since I was 16 and it works perfect! It lasts a long time, so you don't have to repurchase too often. It never dries out and the color is great.
5. e.l.f. Contouring Blush & Bronzing Powder
This is an inexpensive alternative to the NARS blush and bronzer duos. There are a few different color options to complement all skins tones and the product is pigmented and not too powdery. The St. Lucia shade goes well with my skin color and I use it everyday to contour and flush my cheeks.
6. CoverGirl Outlast Stay Luminous Foundation
I love the finish of this foundation! It creates an amazing dewy look and is full coverage, which I love. However, I have oily skin so I always have to pair this with a mattifying powder — but the combination of the two leaves me with a fresh-looking face that lasts all day!
What are your favorite drugstore beauty products?