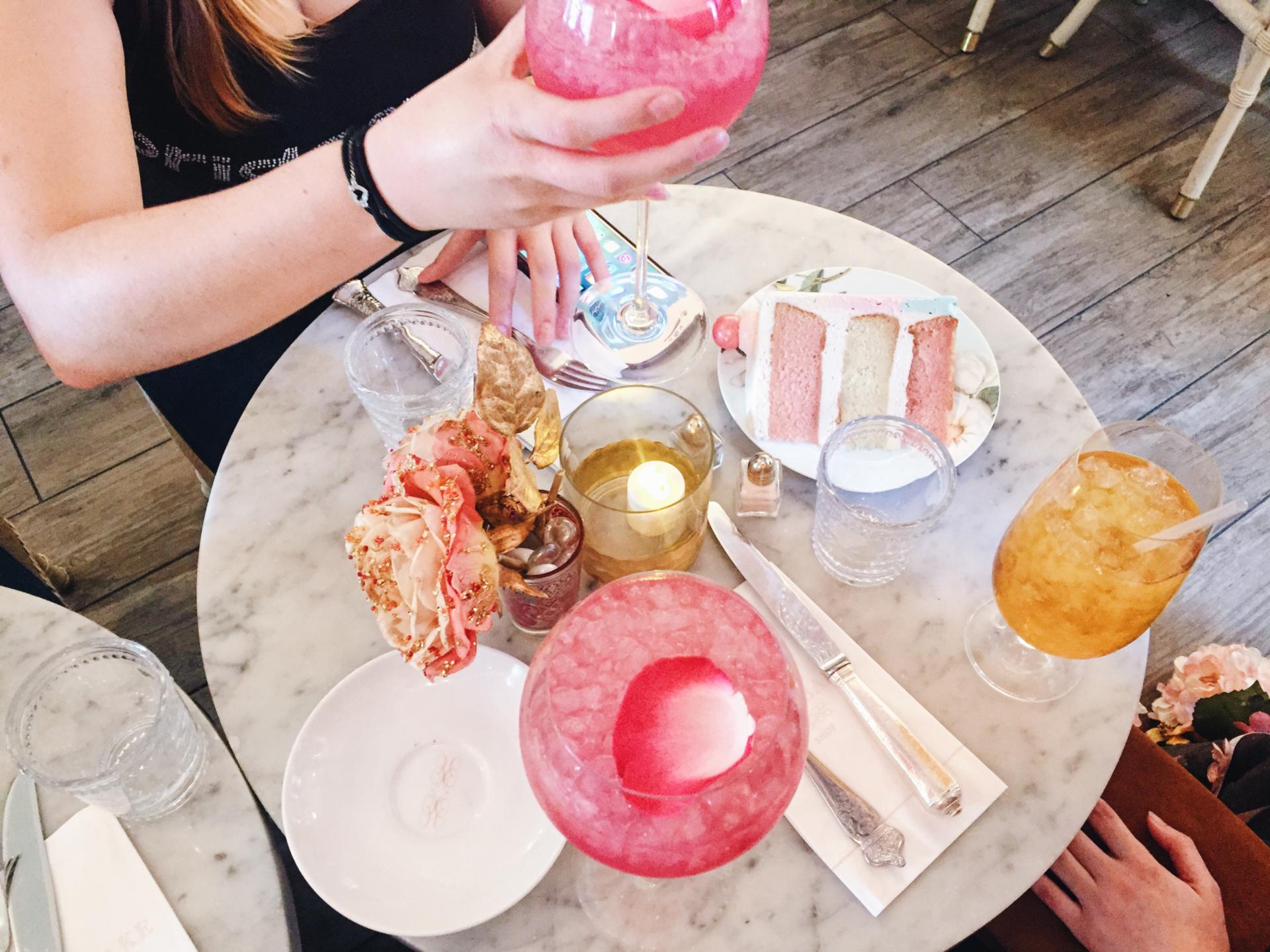 I celebrated my upcoming marriage this past weekend with my bridesmaids at my scavenger hunt bachelorette party in downtown Indy. Here's a wrap-up of where we went and what we did — and this post serves as a great suggestion guide to any of you who are also planning to throw a bachelorette party downtown!
The scavenger hunt began at my apartment when I was given a message in a bottle. This first message ended up leading us to our gifts, which were coordinating bride and bridesmaids shirts to wear that day! We were then led to the Cake Bake Shop in Broad Ripple, which is one of my all-time favorite restaurants. It was so fun to get to go with my bridesmaids because all of them but one had never been there before. We sipped on "Petal Pink Drinks" and snacked on some macaroons and delicious cake slices. The decor, which is always changing, was so gorgeous!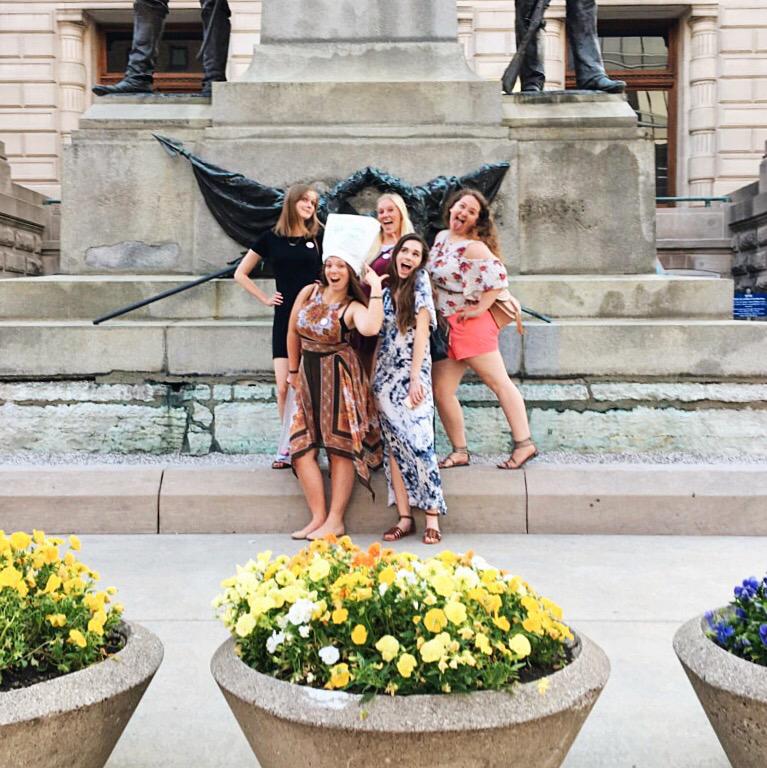 I was presented with another message in a bottle that led us to our hotel, the Crowne Plaza Union Station in downtown Indy. This hotel was so cool and unique, plus it was in a great location for us to walk around to our next locations throughout the city. We then went to Dick's Last Resort, which is a themed restaurant that's jokingly mean to you and assigns you with funny/offensive, self-deprecating hats to wear throughout your meal. It's a fun and comical place to go with a group and this was many of our first times there! The food was yummy too!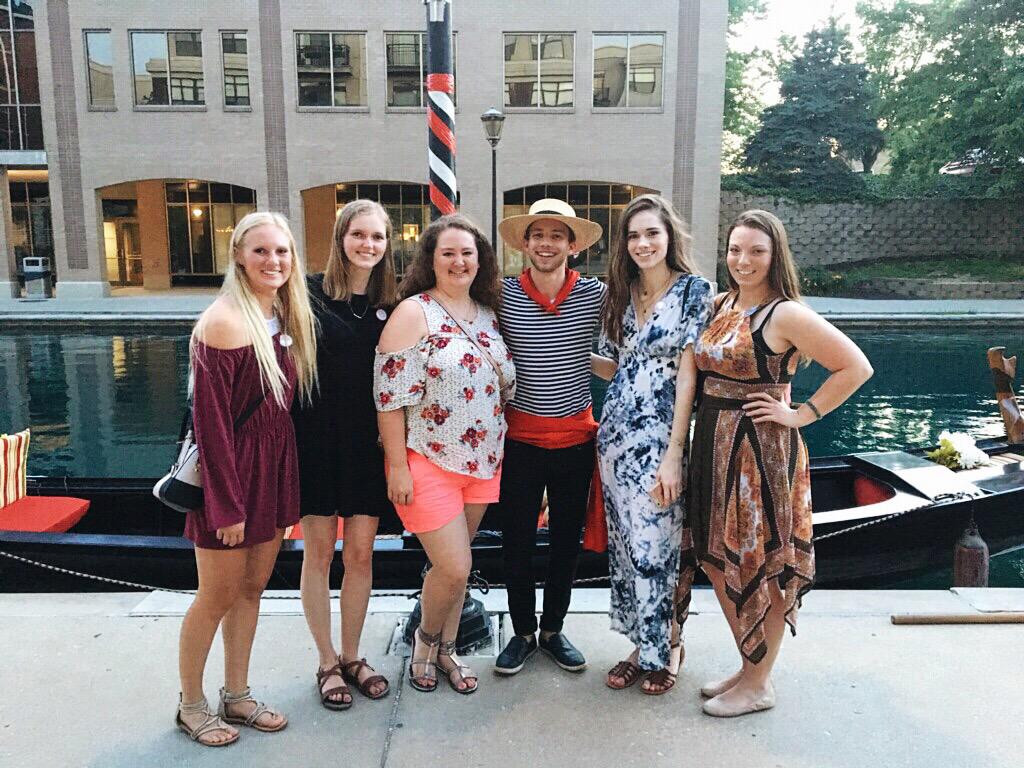 We then walked down to the canal to go on a gondola ride by Old World Gondoliers. This is something I've never done before and it was so much fun! The guy navigating the boat was super friendly and sang to us in traditional Venice, Italy-style throughout the ride. We all had such a great time joking around with him and enjoying the view, and we were so excited that he attempted to perform our song request of "Drop It Like It's Hot." This was my first time doing anything like this or exploring that part of the canal, so I loved seeing a new side of Indy. I highly recommend doing this is you haven't done it before!
We finished the night walking around the city and hanging out at the hotel bar before going to bed and heading home the next morning. Special thanks to my cousin and maid-of-honor (Caitlin), my mom, bridesmaids (longtime friends Danielle, Kassie and Stacy — Natalie couldn't make it) and second mom Kelly for making this day so fun and special! I'm so appreciative of all the time and effort put into planning this party for me and it's a weekend that I'll always remember. 🙂