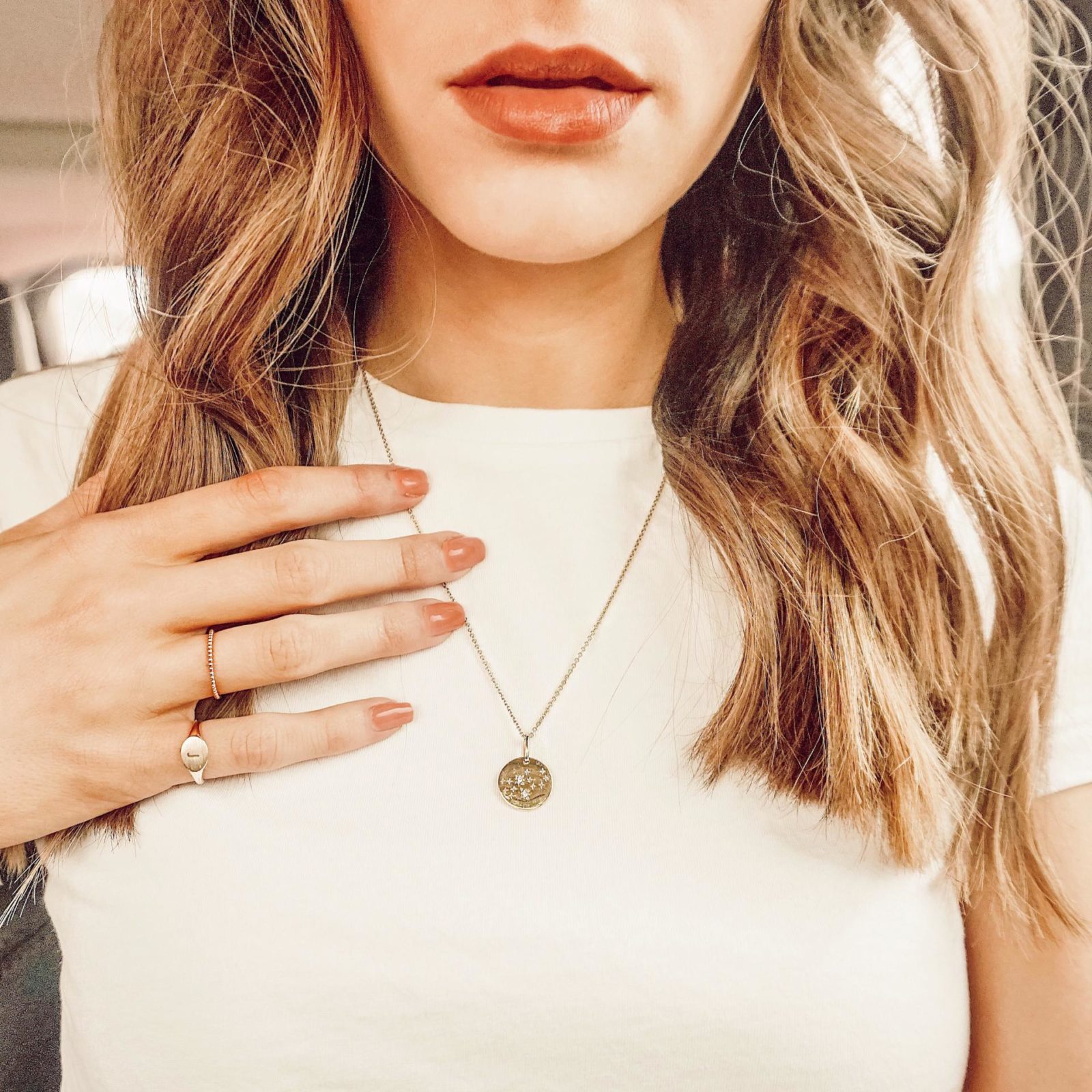 As someone who loves jewelry and wants to invest in nice pieces I can wear every single day without breaking the bank, I chose to give Mejuri a try. Mejuri launched in 2015 and markets their brand as handcrafted, everyday fine jewelry minus the traditional markups, which I'm really drawn to. I've been wearing their jewelry daily for the past six months and wanted to share my full review for those interested in their products. Keep reading for my thoughts on the price, packaging, sizing, quality and wearability + if I'd actually recommend the brand to a friend.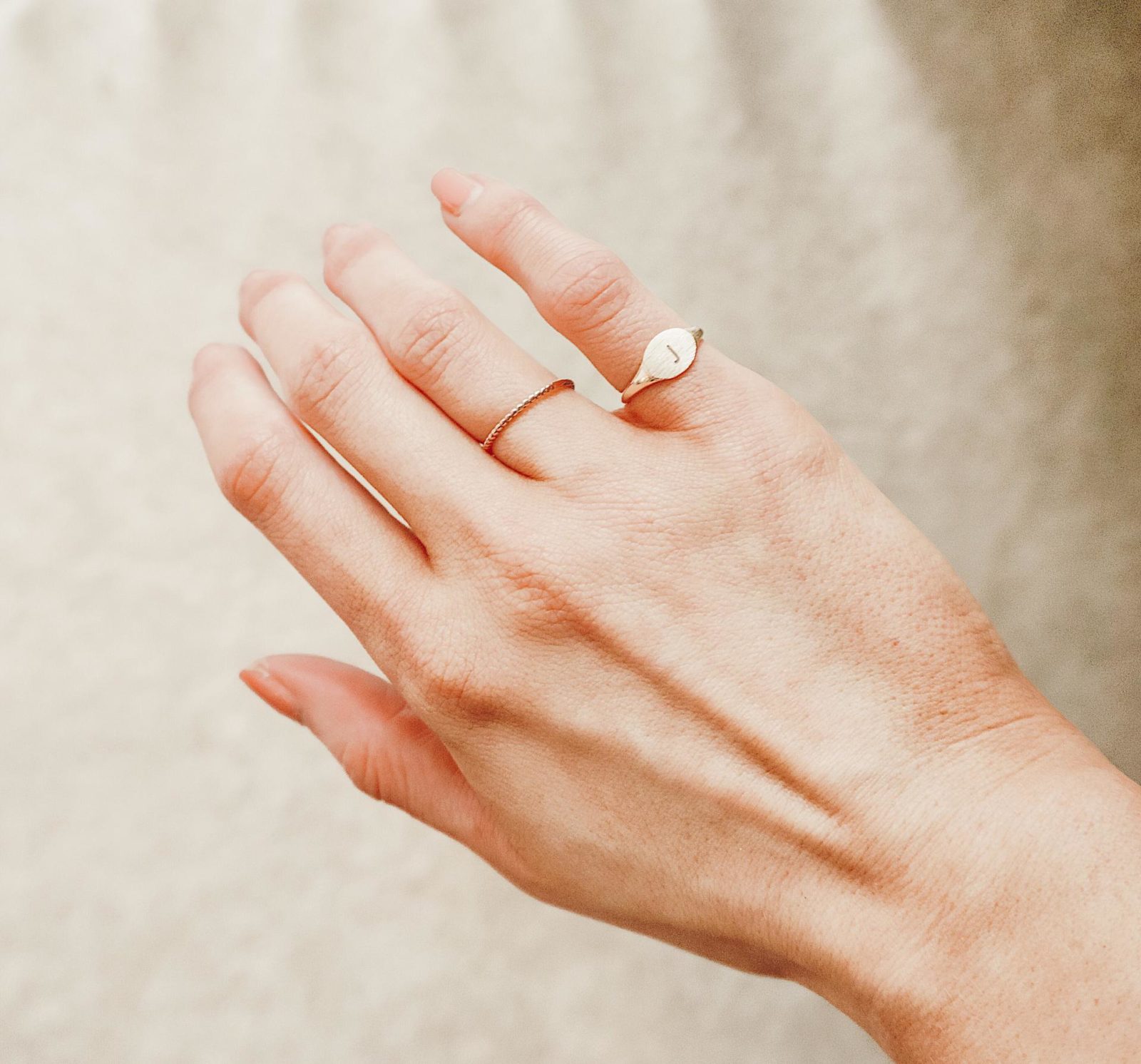 Just for a heads up, this post isn't a collaboration — I simply wanted to share my review of the company and its pieces for those of you who are thinking about purchasing from them. With that being said, let's get into it!
For some additional information on the brand, here's how Mejuri defines themselves:
"We believe luxury should be accessible, fun, and part of your everyday. Our inspiration comes from you; real, smart, mindful women. We work with top jewelers, who commit to exceptional craftsmanship and ethical practices, to produce quality essentials. We free ourselves from middlemen and sell directly to you, so, we can provide fine jewelry at a fraction of the price. It is our mission to have women embrace a daily dose of luxury.

We only work with high quality, enduring materials, from precious metals to chains, set with select and genuine gemstones and ethically sourced diamonds. So, you can wear our products every day, and forever. We also have a few tips and tricks you can use to keep your piece looking brand new."
MY PIECES + THE PRICE
My first two Mejuri items (gifted to me my Justin last Christmas) are the gold vermeil and white Sapphire Virgo necklace ($79) and the solid rose gold beaded ring ($69). My third piece is the solid yellow gold mini signet ring ($165) that I got this week for our one-year wedding anniversary. I've worn each of these pieces daily since I got them, so I felt that was enough time to provide a solid review for you guys.
PACKAGING
I honestly think Mejuri's packaging is my favorite I've ever received. I'm bummed I didn't take a picture of my latest one before I tore it open with excitement (oops), but I included a photo above that I found online. It's minimalistic, but so cute and well thought out at the same time. I feel like it's something I totally would have designed myself, which is a huge win in my book. From the moment you open it, you get an immediate feel of the company's vibe with text on the inside of the box, the inserts and tissue paper sealed with their company logo. The boxes the pieces come in are wrapped in ribbon and are something you'd actually want to keep, and all of the details really give you that full luxury experience. I really couldn't ask for anything more and I love brands that take the time to design even the smallest of details.
SIZING
As for sizing, Mejuri doesn't provide half sizes currently, so be mindful of that when selecting your size. I think every single one of my fingers is a totally different size, so I chose the size based on what finger I planned to wear it on. For example, I wear a 4.5 (somewhere around that I think) on my left ring finger, so I purchased the beaded ring in a 5 to fit on my right ring finger. Justin got me the mini signet ring in a 4 and a 3.5 probably would have been a better fit, but little too big is better than too small. It may be helpful to get sized at a jeweler before purchasing if you're unsure what size to get!
QUALITY
Mejuri does not disappoint in the quality department. As someone who had only worn rings from places like Urban Outfitters (if at all) up until my engagement a few years ago, I didn't really know what to look for when it came to high-quality jewelry. What drew me to Mejuri was their prices and good things I'd heard online, including a collaboration with YouTuber Lauren Elizabeth. Now that I've experienced it, I know investment pieces should look and feel amazing, and shouldn't turn your fingers green or discolor over time. I can confidently say that none of my pieces have done that and they look just as great now as they did the day I received them.
WEARABILTY
Something that I love so much about my Mejuri jewelry is that it's so easy to layer and pair with other pieces. I'm really into layering dainty items, and these are seriously perfect for that. As for the colors of the pieces, I love mixing metals, so the combo of silver, rose gold and gold jewelry is something I pair on a regular basis — it's nice though that a lot of their pieces come in multiple color options for those that may want to match all of their's. I'm really into the mid-chest length of the necklace and the rings are delicate on my hand, making them all very comfortable to wear. It's jewelry that doesn't actually feel like you're wearing anything when you have it on and thanks to the quality and beauty of this items, I know they're pieces I'm going to wear and grow with for years and years.
To wrap this up, I can't recommend Mejuri enough. In my option, you get much more in the quality and longevity department than you pay for and these are staple pieces that will last you a lifetime.
__________
Have any of you tried Mejuri jewelry? Are you thinking about giving it a try? Let me know in the comments! Thanks so much for reading and check back for a new post on Friday!
P.S. For those wondering, Justin's surgery that I mentioned in last Friday's blog post was yesterday and it went well! He's home recovering now and we hope he'll be back to his regular self pre-hernia in a few weeks.