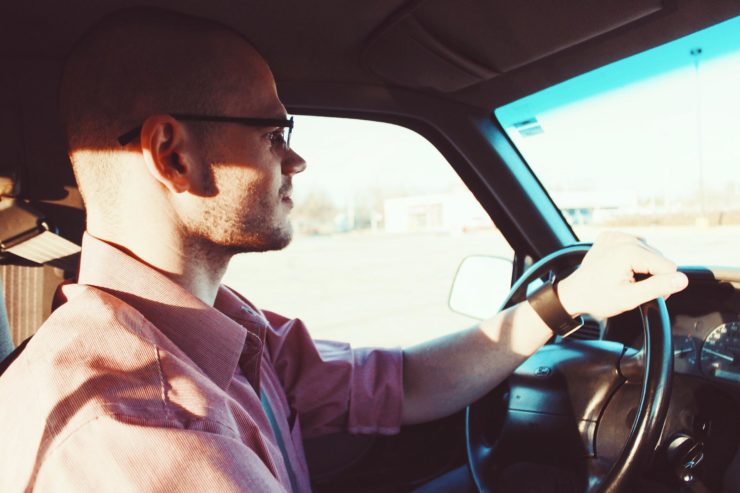 Hey guys! I thought it would be fun to mix things up this week and do a little Q&A with my husband-to-be and blog photographer, Justin! Since you'll be seeing even more of us in my vlogs now (my first one was posted yesterday if you missed it!), I thought it would be great to interview Justin so you can get to know him better. Let's get into the extremely creative and totally unique questions I asked him, along with his uncut answers. 😉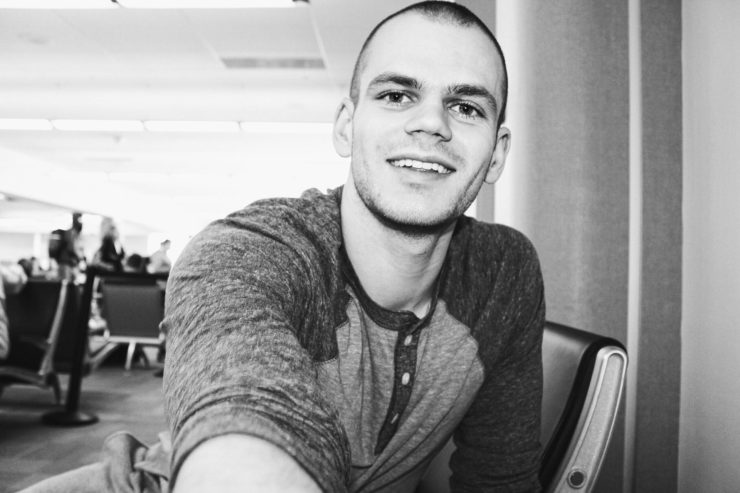 Name: Justin Armbruster
Age: 23 — same as Abby!
Hometown: Ladoga, IN
Degree: Secondary education and pure mathematics from Franklin College
Job: 7th grade math teacher at Franklin Middle School in Franklin, IN, Jr. high girls soccer coach, Jr. high swim coach
Hobbies: Coaching, shooting my bow, lifting (occasionally when I feel out of shape), video games, hanging out with Abby
Astrological sign: Taurus
Friends and family would describe me as: Hardworking, dedicated, slightly childish (sometimes more often than not), caring, hates letting people down
Favorite color: Blue
Favorite food: Pasta
Favorite movie: The Guardian and most things Disney
What I love most about my beautiful fiancée, Abby: She does my laundry for me
If I were an animal, I would be: A dolphin because they're intelligent and great swimmers
The age I imagined myself getting married: After watching the Extremely Goofy Movie, I just assumed I would be that age (old)
Favorite music: Anything except heavy metal
Favorite qualities about myself: Cute butt, good common sense, tall, patient, easy going
Least favorite qualities about myself: Unorganized, procrastinator
Favorite candy: Jelly Belly jelly beans
When I was little, I wanted to grow up to be: A spy or a dolphin trainer
Abby loves when I: Rub her back, feet, hands and head, and pay attention to her
Abby hates when I: Lick her face
Favorite season: Spring and fall
Material items on my wish list: Nintendo Switch, Microsoft Surface Pro 4, DJI Mavic drone
Favorite restaurant: Bob Evans
If I were stranded on an island, the three items I would bring are: Machete, flint, Abby (scratch that, I would die) and a boat
My biggest goal: Be a good teacher and a successful coach
Nicknames I have for Abby: Cute girl, baby, babe, boo
Nicknames Abby has for me: Cute boy, honey bunny, bop, boo, belly
Dream vacation/I want to travel to: Anywhere with a warm sandy beach and crystal clear water
Favorite beverage: Root beer
Something I want to do more of: Work out
Something I want to do less of: Procrastinating
If I won a million dollars, I would: Pay off my student loans, get myself a nice (but not too expensive) car, put enough towards buying/building a house and invest the rest
__________
I hope you enjoyed this cute little Q&A! You can read more about Justin and I in the engagement Q&A that we did on IndyBride2B.com last week, where we answered questions on our favorite qualities about each other, when we plan to have kids, what we're looking forward to most about getting married + more! You can also view more of our personal posts on my blog here.
Thank you for reading and happy Wednesday! If you've done a Q&A with your significant other on your blog or plan to do one soon, please comment the link below so I can check it out! 🙂