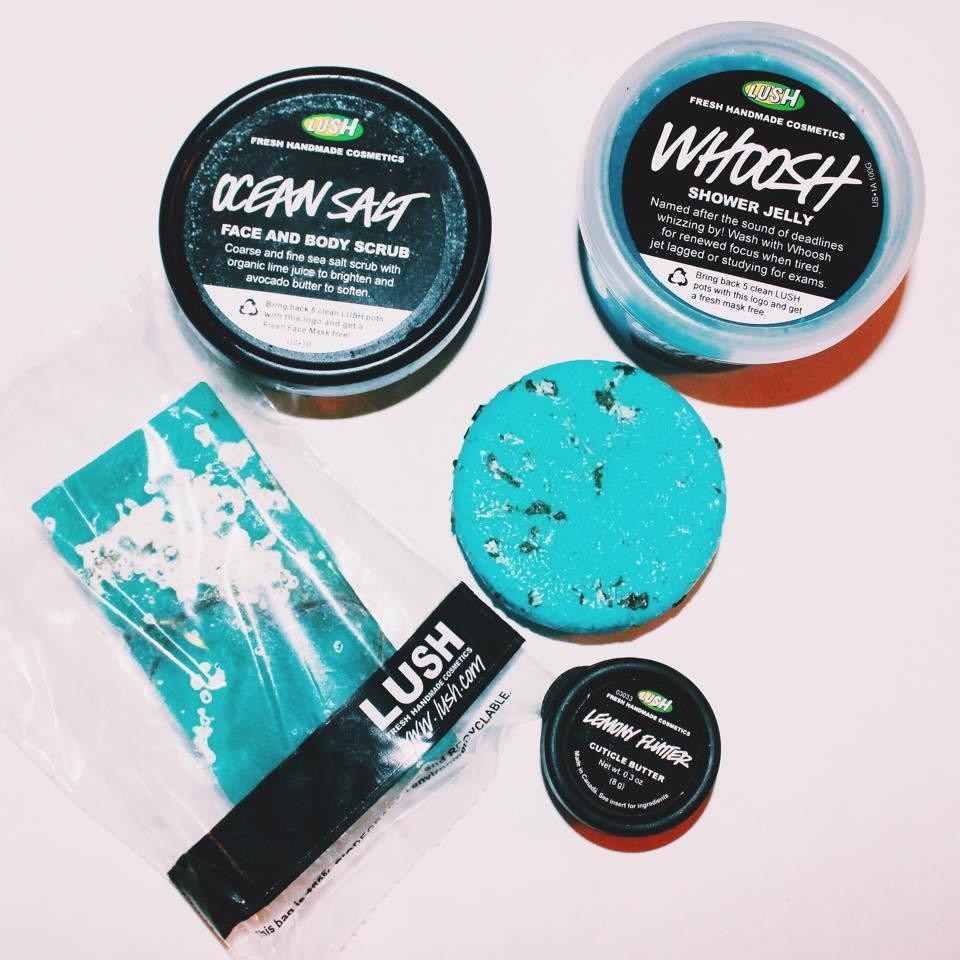 Today I'm doing a review on the Lush Splash! gift set, which is a seaside themed box filled with bath and beauty products. First of all, these gift boxes are absolutely adorable. Lush comes out with new ones for each season, as well as various other fun ones. It comes perfectly wrapped with coordinating paper that fits the theme of the box. This makes a perfect gift to give someone that loves trying out new bath/cosmetic products!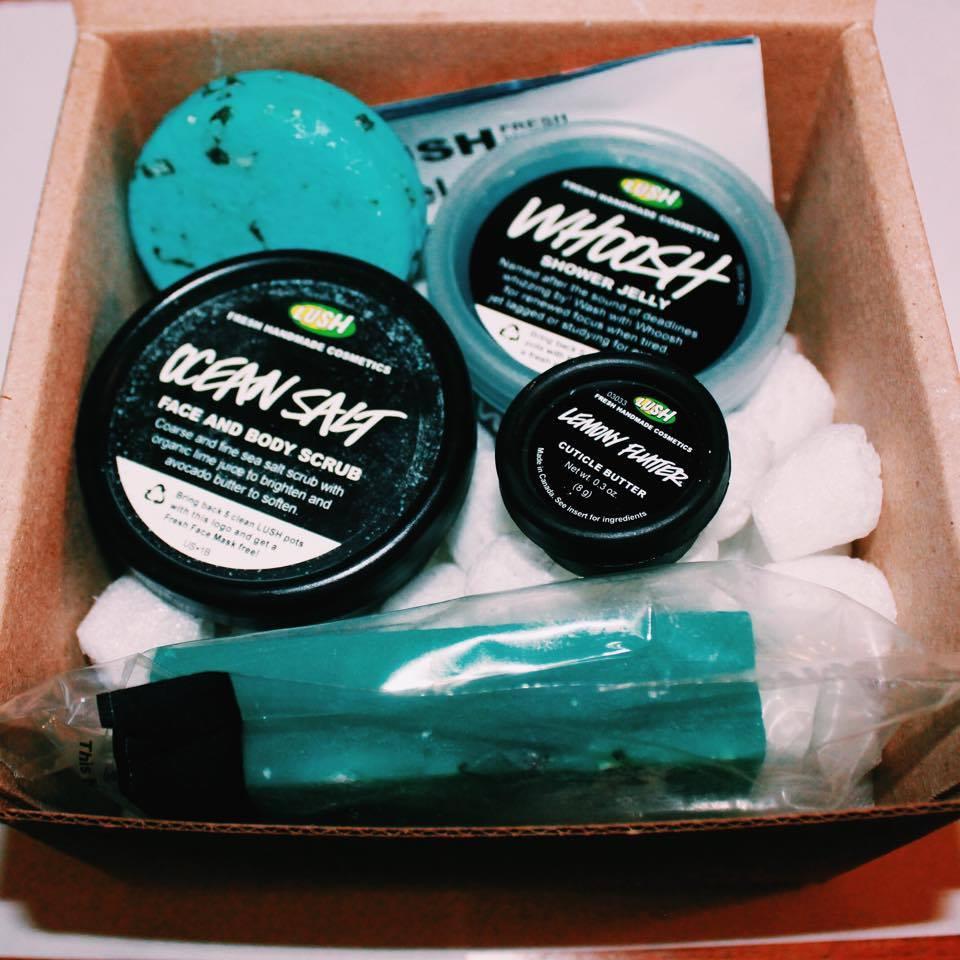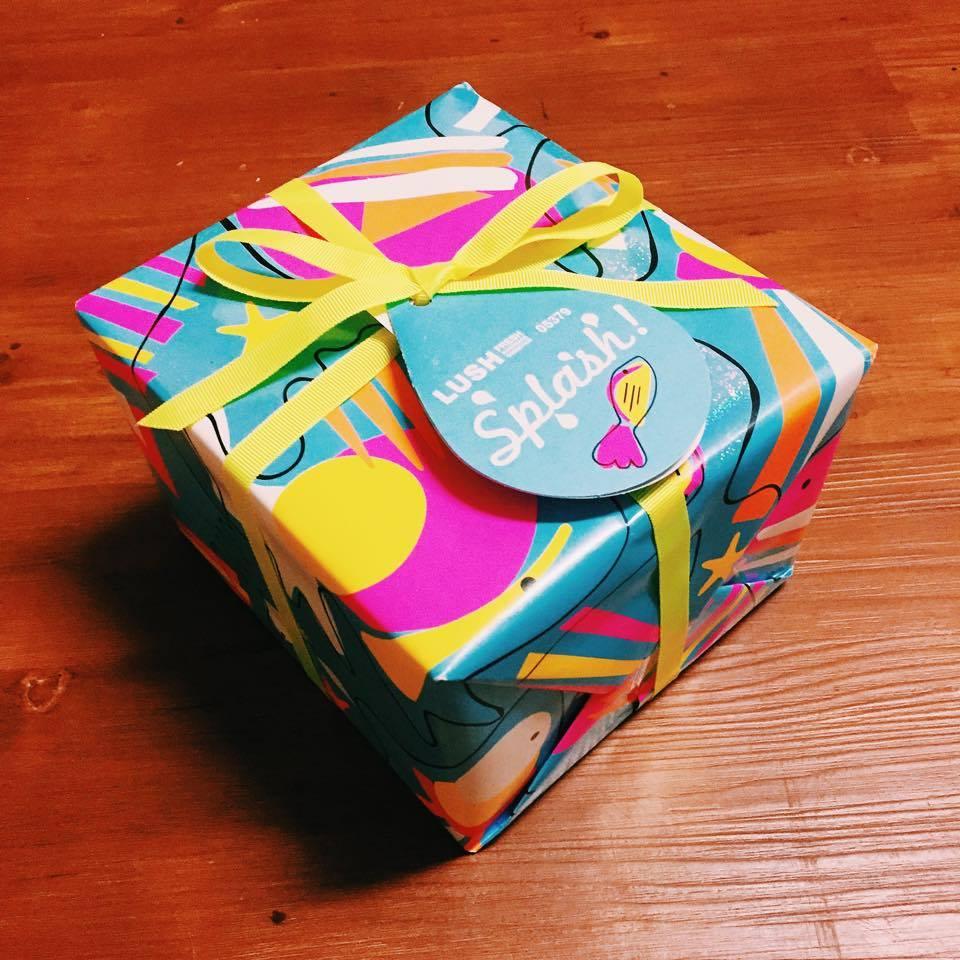 Ocean Salt Face and Body Scrub
This scrub contains coconut cream, sea salt, avocado, and lime. This particular scrub is designed to wash away dirt and dead skin, while hydrating and cleaning out your blocked pores to treat and prevent blemishes. This is one of Lush's most popular products, so I was very excited to try it out. I like to use it on my body and nose area and it leaves my skin feeling very fresh, clean, and smooth — I love the scent of it and I'd like to repurchase it when I run out!
Seanik Shampoo Bar
This was my first time using a solid shampoo bar, so I was hesitant to use it at first because I was unsure if it would work or not. To my surprise, it lathers extremely well! All you have to do is run it over the surface of your wet hair, massage it into your roots, and you're good to go! This shampoo bar contains sea salt, Irish moss seaweed, Japanese nori seaweed, and lemon oil. I didn't notice much of a scent lasting in my hair throughout the day, but it did leave my hair feeling very fresh and smooth. It was a cool experience, so I would definitely suggest trying it out if you haven't already.
Whoosh Shower Jelly
How cool is this?! It's basically a jar of jello that you rub on your skin in the shower! I know, it sounds weird — but that's essentially what it is! You can remove the entire product from the jar, lather it on your body and reuse it, or tear off a small piece of it and put it in your loofa, which is what I did. It lathers really well and works just as a liquid body wash would. It has a fresh scent, containing lemon, lime, and grapefruit juices + rosemary and geranium.
Lemony Flutter Cuticle Butter
I have never used any type of cuticle cream in the past, but I know it's something my gel covered nails could definitely benefit from in between manicures. This cream is designed to nourish your cuticles and nails, but it can also be used on other rough areas of your body. I find that my hands get extra dry in the winter, so I like to apply this cuticle butter onto each nail area when I find that I need it. It has a clean lemon scent that isn't something I would normally pick out, but I actually really like it!
Sea Vegetable Soap
Finally, the box comes with Lush's best-selling soap which I haven't tried yet because I forgot it at my parents' house (oops). This soap consists of seaweed, lime, sea salt, and scents of lavender and I'm excited to try it out!
Have you purchased a Lush box set? If so, what do you think of it? I would love to hear which ones you guys have tried out!
Thanks for reading!