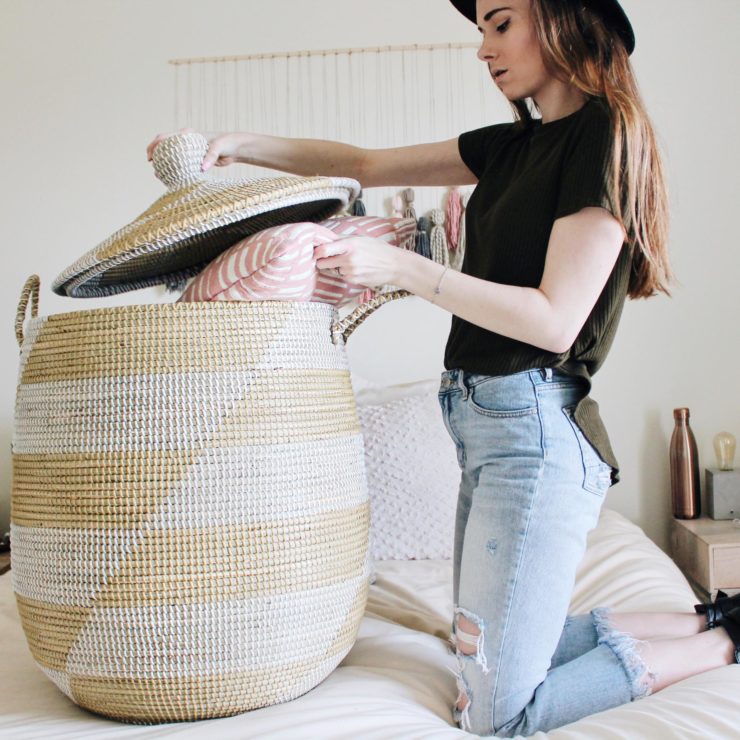 When living in an apartment, there's limited space to store items that you don't always want sitting out in plain sight — so finding pieces that are both functional and decorative are ideal. I'm always looking for cute ways to add additional storage pieces to our space, so I've teamed up with Serena & Lily today to share my favorite ways to style baskets in your home!
OUTFIT DETAILS
Shirt: Forever 21 (similar here) // Jeans: Pacsun (similar here) // Boots: Forever 21 // Hat: Forever 21 (similar here)
HOME DETAILS
Bedding: Urban Outfitters // Patterned Blanket: Similar here // Bedside Tables: Target (similar here) // Tassel Wall Hanging: Made by me! (tutorial here)
Baskets can be styled in so many ways in every room in the house. The basket I have is the large La Jolla in natural. Our apartment is very light and filled with tons of cream and soft shades, so this color combo fits our home perfectly. It matches the decor in each room of our apartment seamlessly, making it super easy to move around periodically when I decide to switch up our space and utilize it for different needs.
One great way to use this basket is for laundry. I'm not a fan of having a standard hamper or plastic laundry basket sitting out all the time, so it's a great alternative to utilize one like this since it has a lid to keep your dirty clothes totally out of sight. This one is so sturdy and well-made, so it will last you for years and is easy to carry around from room to room when need be!
Another way to utilize baskets in your home is for storage of extra blankets, seasonal pillows or bedding for guests that come over (or wedding stuff, like me!). These are items that you don't need out all the time, but can double as great styling pieces — let a blanket hang off the edge for an effortless look. If you have cute little doggies or kids (unlike me), you can also use these to store toys. This would be such a useful and multi-purpose bridal shower, house warming or baby shower gift too!
This one also comes in pink, blue and black, as well as two smaller size options. I almost got the pink one, but I figured I've tortured Justin with enough pink for now (but really, he's too good to me and doesn't mind the pink). You can check out all of Serena & Lily's baskets here (I'm dying over this one too!).
I hope you all had a great weekend & check out my latest vlog below to see me unboxing this basket + talking about it a bit more! Enjoy your Monday and stay warm if you're in the chilly midwest like me! 🙂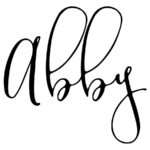 *Thank you Serena & Lily for sponsoring this post!