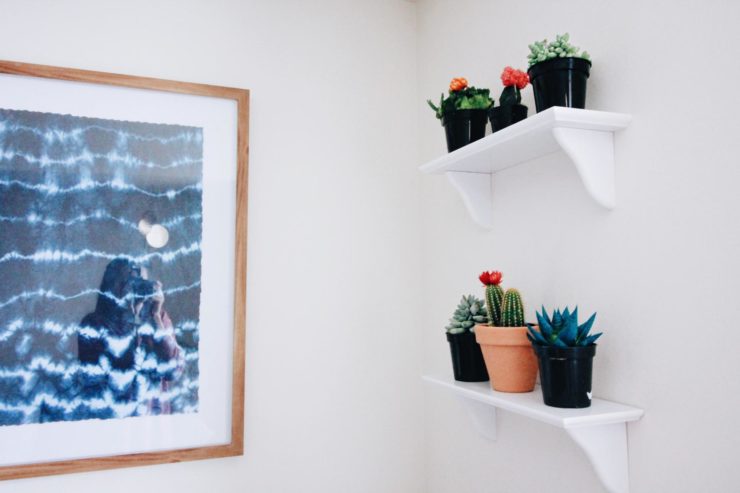 Hey guys! If you read yesterday's newsletter (if you're not subscribed, you can submit your email at the bottom of the page), you'll know that Justin and I went plant shopping! Yes, this is very exciting for me. We picked up some cacti and succulents, as well as some shelves to sit them on in our living room to bring some life to our space, along with supplies to create a cute hat display in our bedroom to better utilize some blank space.
I've been meaning to buy plants for our apartment literally since we moved in and I'm just now getting around to it! I'm so glad we finally bought some because they look so good in our bohemian vibes home. We got all of these from Home Depot, where they had TONS of options to choose from in just about every color you can imagine. I won't be keeping these in just the black plastic pots they came in — I'll be on the lookout for pots I can DIY, as well as a mug or two to put them in to mix it up! If I end up doing DIY pots, I'll definitely share it with you here on my blog and/or my YouTube channel. We plan to hang hooks under the shelf by the couch to put our keys on since it's right by the door, making them easier to grab as we leave.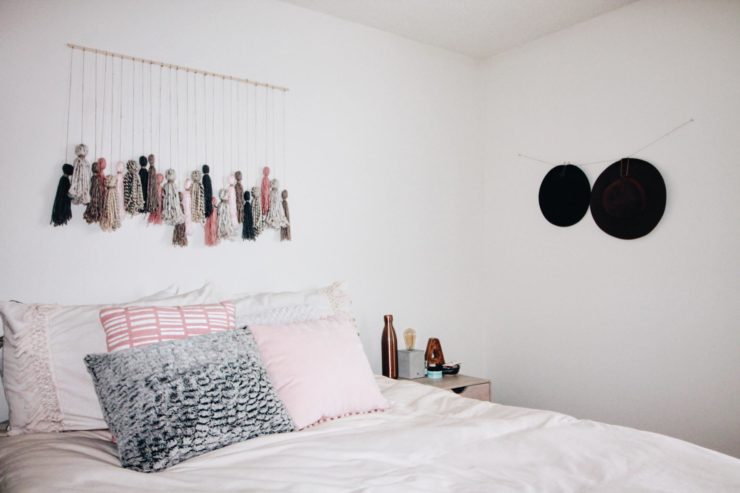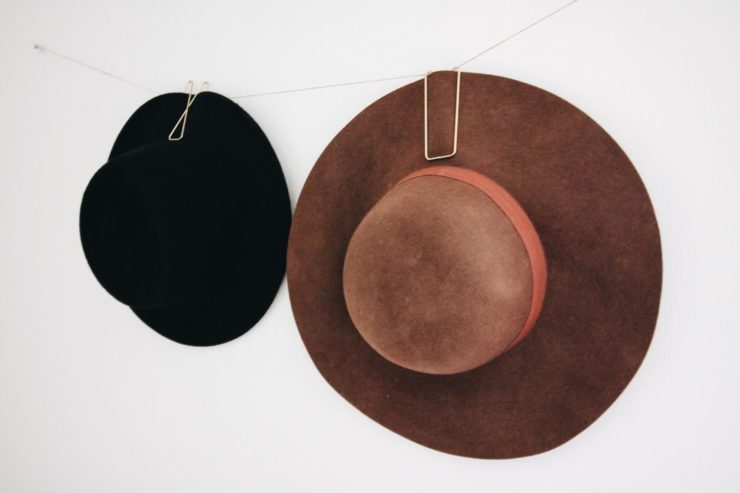 This hat display is another mini project I've been meaning to do for a while. I used clear push pins to tie hemp string to along the blank wall next to our bed. I unsuccessfully searched for clothes pins at Target to hang the hats on and settled for these gold oversized paper clips instead, which I actually love more! These Nate Berkus clips were on clearance in a pack of six for only $2 in the office supplies area — you can't beat that! I love how functional this decor is because I honesty needed somewhere to store my hats instead of launching them to the very top of my closet in hopes of preventing them from getting crushed. If you're wondering, both of these hats are from Forever 21 — the black one has been such a staple for me.
I hope you all had a great weekend & thanks for reading! You can view my other home-related posts here and follow me on Pinterest for more home inspiration. P.S. A new vlog went up this weekend — watch it below if you missed it and lookout for another one this week where Justin and I filmed ourselves shopping at Home Depot and hanging these shelves up. If you're a vlogger too, let me know in the comments below so I can check out your channel! 🙂