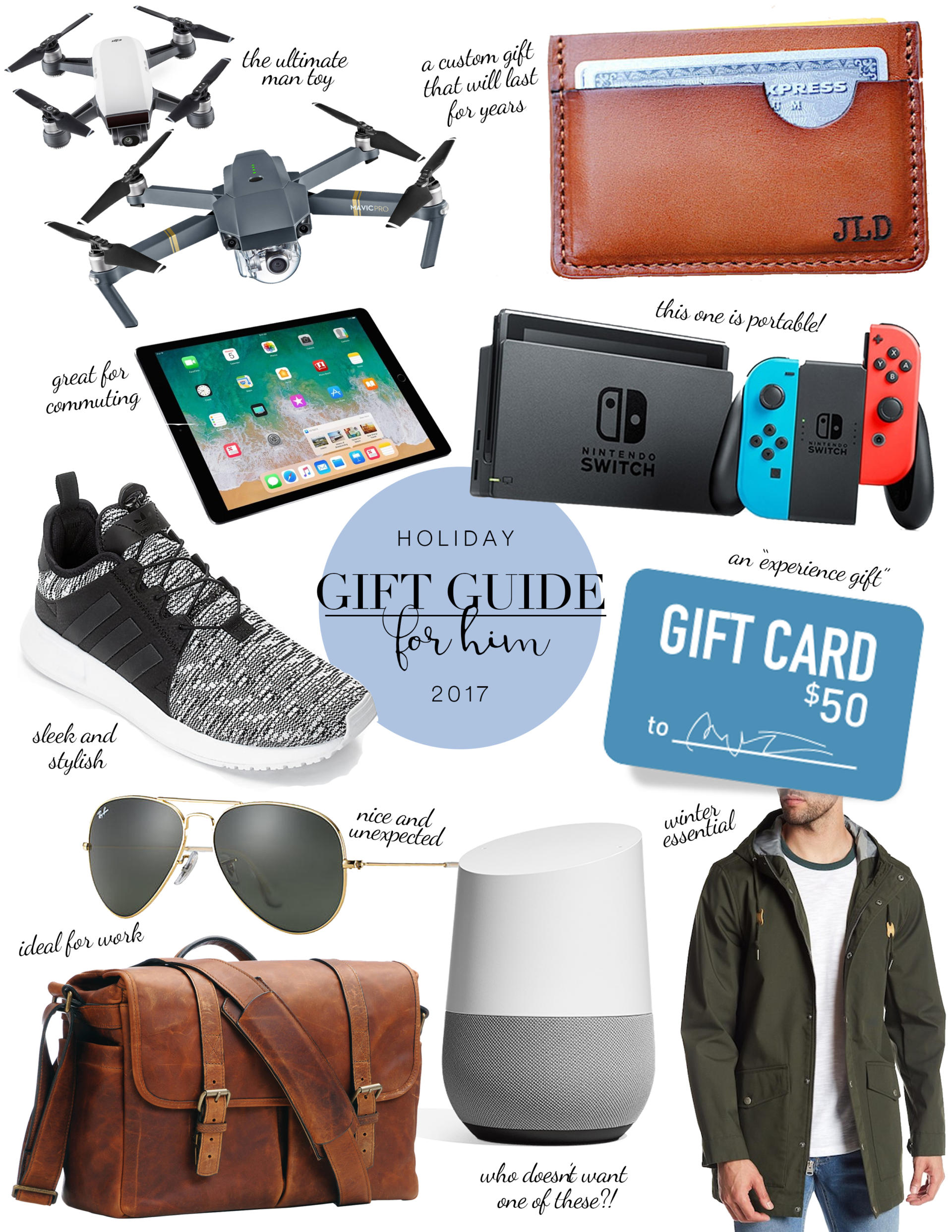 The holiday season has me revved up and ready to brainstorm gift ideas and shop the best deals. My trusty 24-year-old husband helped me select guy-approved gifts that are sure to score you cool points this year at a variety of prices so you don't have to break the bank.
1. DJI Mavic or Spark Drone — I put the latest drone on my men's gift guide last year and it's sticking around this year too. Let's be real here, boys love toys. This gift is the ultimate man's toy, it's user-friendly and such a cool gadget for the whole family to enjoy. Justin and I own the Mavic Pro and we absolutely love it. The Spark is the newest, tiniest version and would be so great to travel with!
2. Nintendo Switch — You can't go wrong with the latest gaming console. Justin bought this one a few months back and absolutely loves it! The value of the Nintendo Switch goes up in our book since it's both portable and multiplayer. If you decide to go this route, Justin recommends The Legend of Zelda: Breath of the Wild game and the pro controller.
3. Coat/Jacket — For the guys in your life that like new clothes or don't know how to dress themselves, this is where you come in. Pick an item you think he'd look good in and would actually wear (this one is KEY) so he can stay warm and maybe slightly stylish for the next year or two.
4. Google Home — I'm sure you're all familiar with how popular this gift is this year, and the best part is you can pay as little as $50 for one! We got one for my brother-in-law this month and I think it's a great gift for any tech-lover.
5. Bramble & Beene Custom Wallet — Justin is a wallet lover and buys a new one way more often than necessary (Justin: if you're reading this, stop shaking your head — you know it's true), so I definitely recommend this. You can get a custom one from an Etsy shop like Bramble & Beene, who I've personally worked with, love and would recommend.
6. Activity Gift Card — If he likes to do something like going shooting or paint-balling, get him a gift card to one of his favorite places so you can cover the bill on a future trip. You could wrap this in a series of boxes to confuse him if you want to make it fun. 😉
7. Shoes — Guys are typically in need of a new pair of shoes after a year of everyday wear and tear, so I think it it's nice to pick some out that he can wear to work or casually on the weekends. Justin has been wearing a lot of Adidas this year and loves it!
8. Work bag — If he's a working man, a high-quality leather bag is great for his commute to and from work. Amazon has a ton of great options — just do some research on what kind of items he needs to carry along with him (laptop, portfolio, etc.) and select a style accordingly!

9. Sunglasses — A nice pair of sunglasses is an unexpected gift if you're looking to get him something totally new to his wardrobe. You can find inexpensive options at places like American Eagle and Pacsun, or opt for a high-end version like Raybans.

10. iPad — iPads are small and convenient for taking back and forth from school and/or work. I suggest this gift for college guys looking to lighten their school load when going to and from class.

What are you getting the men in your life for Christmas this year? If you'd love some more ideas, check out last year's holiday gift guide for men and stay tuned for stocking stuffer ideas tomorrow!