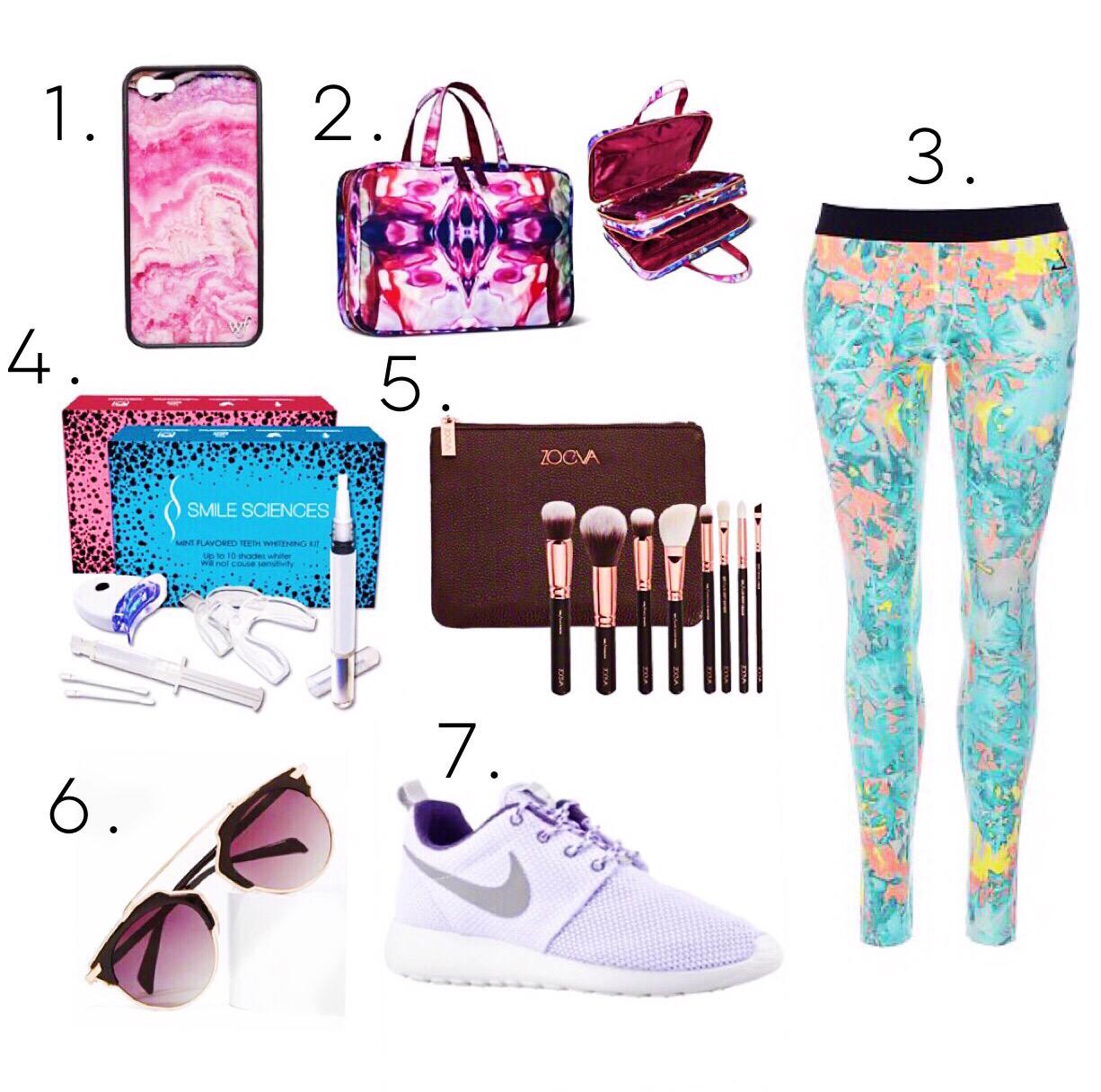 The holiday season is upon us, and if you're anything like me, I've been in full research mode trying to figure out what to get my friends and family for Christmas. Here are some gift ideas for the ladies in your life, ranging from $20 – 70.

1 // Wildflower Phone Case — $35
I've been using Wildflower phone cases for the past year and I absolutely love them! They make great gifts since they come in so many different styles. Cases are available from iPhone 4 to iPhone 6s plus. Wildflower is hosting a 24 hour Black Friday sale + exclusive case release, so be sure to check that out if you're interested!
2 // Sonia Kashuk Weekender Bag — $30
I've had this bag for a few months and it's my absolute favorite travel/toiletry bag I've ever used! It's so spacious and makes organizing your products so simple. It comes in a few different colors and patterns and the wipeable fabric makes it easy to clean.
3 // Jogha Active Leggings — $45
This gift is perfect for someone who is active or just enjoys being comfortable! I have a pair of of these and I would honestly wear them everyday if that was socially acceptable. They are so incredibly comfortable and don't awkwardly loosen up throughout the day like some yoga pants do. The material is smooth and stretchy and they fit really nicely + come in several different colors!
4 // Smile Sciences Teeth Whitening Kit — $29

This price of this kit is $299, but you can get it for just $29 (90% off!) by using the code ABBYSAYLOR. 
The Smile Sciences teeth whitening kit provides consumers the opportunity to perform teeth whitening treatments on themselves from the comfort of their own home. The kit includes upper and lower trays that you can custom fit to your mouth, one 5 mL syringe of our FDA registered and dentist approved gel, two vitamin E sticks to clean up any excess gel left on the gums, an LED light to activate the whitening gel for faster results, and a whitening pen that maintains the results achieved giving you an additional 14 day supply. You will see results in as little as 20 minutes that can leave your teeth up to 10 shades whiter.
The kit includes:
Upper and Lower Trays that you custom fit to your mouth
One 5-ml syringe of whitening gel
Two vitamin E sticks
One LED light for quick results
A maintenance pen for whitening on the go 
5 // Zoeva Rose Golden Luxury Brush Set — $70
This brush set is perfect for any makeup lovers in your life. I've been eyeing this set for a while and have watched countless review videos on it and it's a great product! Brushes can get expensive fast, but this one is reasonably priced for what you're getting — plus the rose gold color is super cute and trendy!
6 // Goal Master Aviator Shades — $20
These edgy sunglasses are a dupe for the iconic Dior pair, so this would make a awesome gift for a girl in your life that's really into fashion. You can't beat the price!
7 // Nike Roshe One Shoes — $63
These shoes are versatile and serve as a practical gift that can get a lot of use. There are endless color options to choose from to customize the shoe to the special someone you're giving it to!