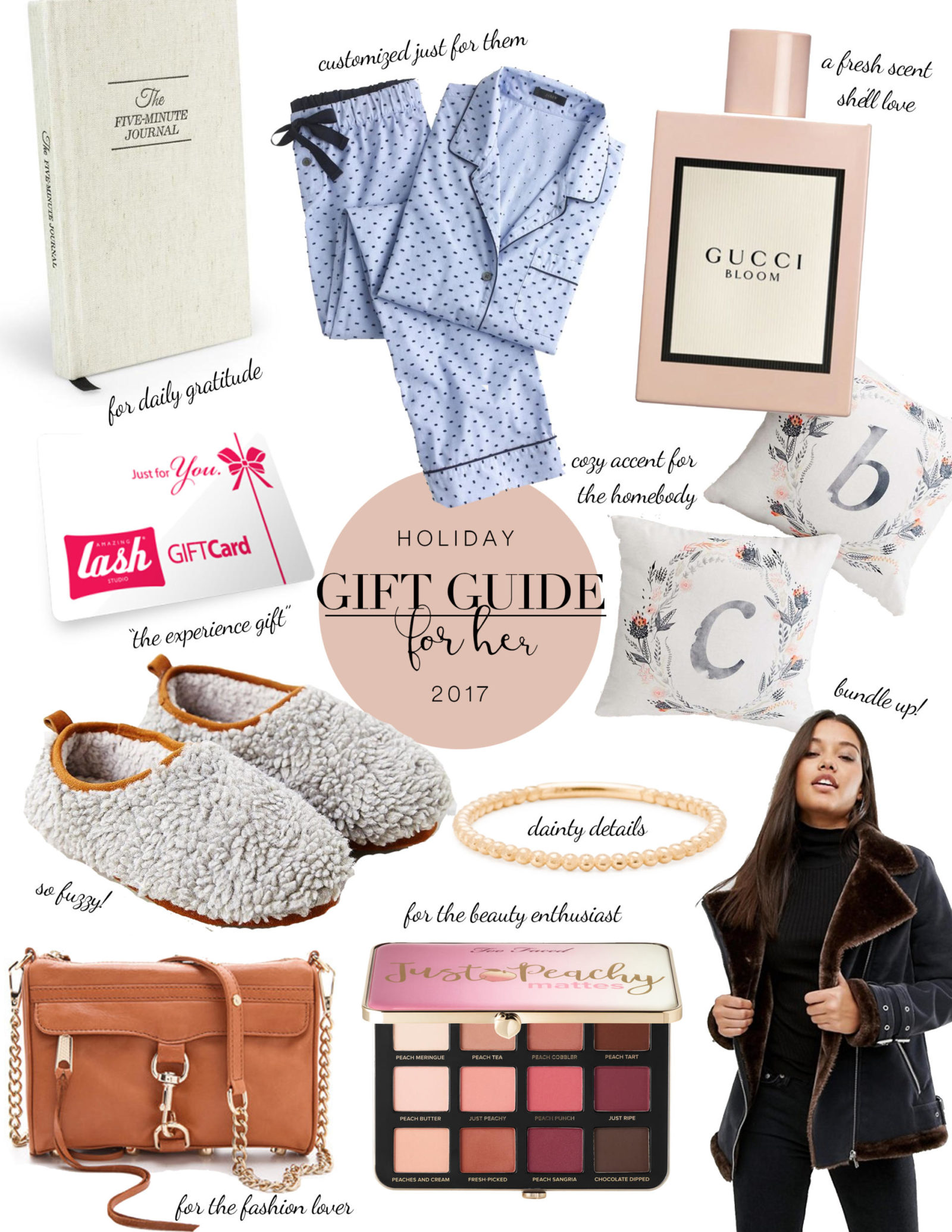 I'm kicking off gifting season with one of my favorite posts to write: a gift guide! Don't know what to add to your Christmas wishlist? Unsure of what to buy for your mom, sister, spouse, etc.? I'm sharing my top girl gift picks for 2017 that won't disappoint, ranging from as little as $25 and up!
1. Five Minute Journal — I received one of these as a birthday present back in September and I'm absolutely in love with it. This is a great gift for anyone in your life that loves self-care or is looking for ways to boost their optimism and focus on personal growth and gratitude. The book starts by explaining the benefits of journaling everyday through this method, then has guided pages for you to do so every day.

2. Embroidered Pajama Set — Looking chic while you're sleeping sure isn't a necessity, but it is pretty fun. There's something so luxurious about lounging around in a nice PJ set, and you can get these ones from J.Crew monogrammed with your initials for a personal touch!
3. Perfume — This is what I'm asking for this year! If you know the girl well enough that you're buying for, selecting a perfect scent for her is such a thoughtful gift. My favorite this year is Gucci Bloom, but I've linked some of my other favorites below. I suggest finding out what kind of scents she likes: floral, sweet, musk, etc.

4. Slippers — I received a pair of slippers from my in-laws last year and I've gotten so much use out of them! I love lounging in slippers when I'm want to be super comfy and cozy… so basically always. Target and Urban Outfitters have some really cute options.


5. Rebecca Minkoff Mini M.A.C. Bag — If you're looking for your first designer bag, I highly recommend the Rebecca Minkoff mini M.A.C. The adorable mini mac sits at a $200 price point and looks like an absolute dream in person. The purse is amazing quality and the chain strap gives it that desirable high-end vibe.

6. Bedding — Bedding can be expensive, so if you're planning on moving or redecorating soon, consider asking for new bedding as a Christmas gift. I did this the winter before I graduated college and moved into my first apartment, which I was so grateful for. If she's all set for bedding, consider a blanket or pillow set instead.


7. Jacket/Coat — This is another item I'm asking for this year. I've linked each of my favorites down below is you're unsure of what style to buy! Asos and Boohoo are my top two store picks for trendy jackets and coats, so I'd take a look there. The styles that are the most popular this season are the aviator, teddy, fur and leather.

8. Mejuri Jewelry — This is another one on my list. Mejuri is a good route to go if you're wanting to get someone high-quality jewelry than you'd find in boutiques without breaking the bank. They have some really pretty astrological sign necklaces and rose gold rings that I'm dying to get my hands on.
9. Gift Card/Membership — Consider giving a gift card or membership for something she'd enjoy such as pure barre, eyelash extensions, spray tan, manicure/pedicure, haircut and color, etc. These are expenses she might already pay for herself or hasn't considered purchasing before, so this would be a great experience gift. If you're local to the Indy area, I recommend KM Lash Designs for lash extensions — she does lifts and other lash work too!
10. Makeup — Though this sounds vague, you can't go wrong with a nice palette if she's a makeup lover! I linked some of the best and most popular ones below, so I suggest doing some snooping to see what she already owns before selecting one of these options. Highlight is what's the most trendy these days, so I suggest that or eyeshadow.

What's on your Christmas wishlist this year? For those of you feeling stuck, I hope you this post is helpful to you when tackling gifting season this year. Let me know if you end up buying any of these! If you're in search of more, check out last year's gift guide for her and check back for more gift guides every day this week!