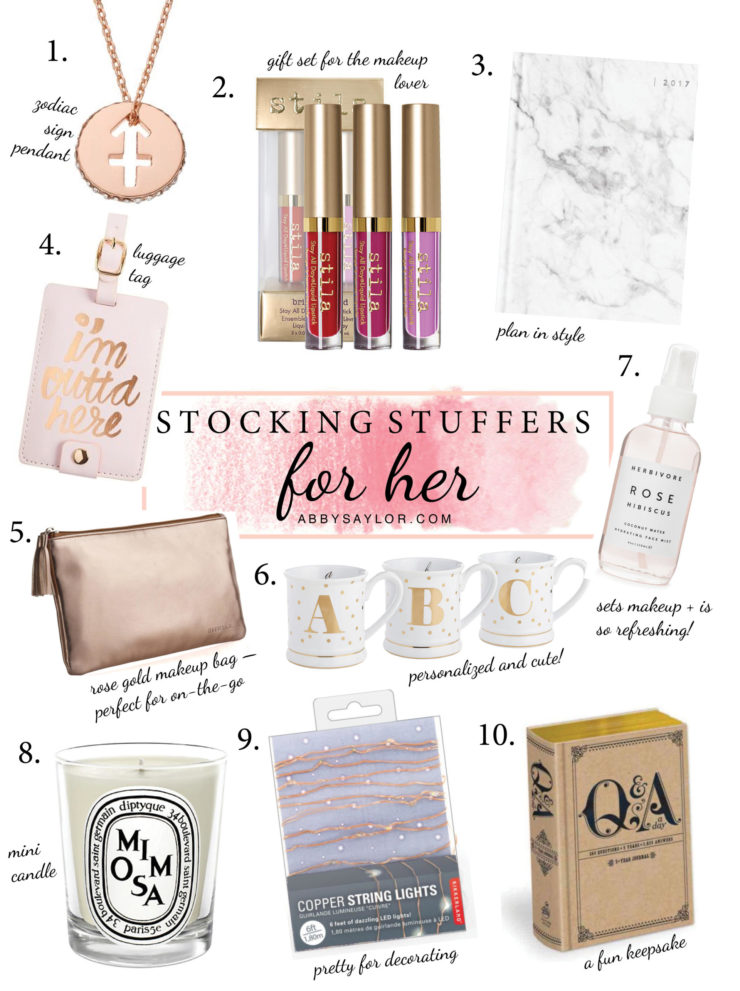 Out of stocking stuffer ideas? Today I'm sharing with you some of my favorite small, unique gifts to give your friends and family members this Christmas! Like my last Holiday Gift Guide and GIVEAWAY post, this post is also a collaboration with Carrie Elise (carrieelise.com), so be sure to head over to her blog next to see her stocking stuffer ideas too!
1. LC Lauren Conrad Rose Gold Tone Zodiac Sign Circle Pendant Necklace — These are so cute! Any girl you know who loves astrology is bound to like this, not to mention it's a delicate jewelry piece that she'll treasure.
2. Stila Bright & Bold Stay All Day Liquid Lipstick Set — Sephora has the best beauty gift sets for the holidays! This is a great way for her to try out some fun makeup products without having to commit to the full size product.
3. White Marble Planner — This is a great gift for someone who loves to be organized. Select a pattern she'll love and she's bound to stay on schedule next year — or at least attempt to. 🙂
4. Ban.do I'm Outta Here Luggage Tag — There's a luggage tag for everyone out there, so this is definitely a fun stocking stuffer for the traveler in your life!
5. Rose Gold Makeup Bag — Rose gold is everywhere right now, and makeup bags are no exception! You can win a similar one in my giveaway!
6. Monogram Mug — How cute are these?! This is the perfect custom gift that won't go unused.
7. Rose Water Spray — This is one of my favorites! Rose water smells really good and is so refreshing, plus it's great for your skin!
8. Diptyque Mimosa Mini Candle — These mini candles are chic and perfect for stockings! They come in a bunch of different scents, giving you tons of options to choose from when selecting some for your friends and family.
9. Copper String Lights — I'm shocked I don't already own some of these because they're so pretty and simple to decorate with! Add them to a headboard or mantle for a cool (and festive) look.
10. Q&A a Day: 5-Year Journal — I've always wanted one of these! If you've never seen this before, it's a 365 question book where you answer a new question each day, repeating the question every year so you can see how your answers change — it's great for all ages!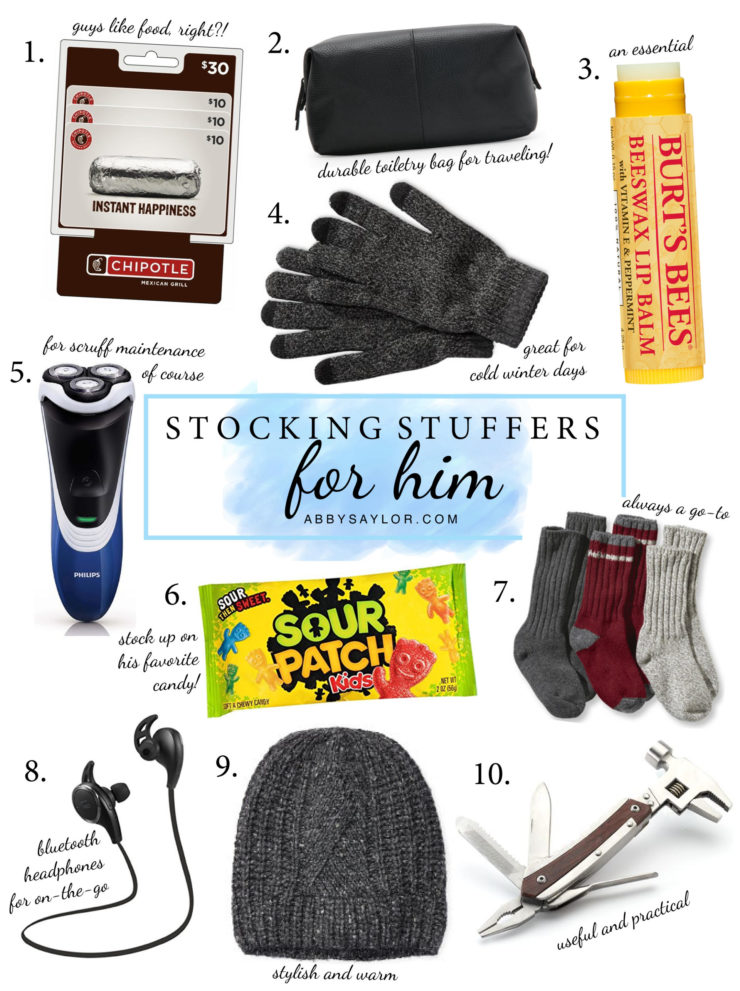 1. Restaurant gift card — You can't go wrong with this one! Get him a gift card to his favorite restaurant and he'll enjoy a free meal or two on you!
2. Cole Haan Pebbled Faux Leather Dopp Kit — A durable toiletry bag is great for traveling or even organizing hygiene products at home. Select one that is whipe-able for easily clean-up — it'll last him for years and it's something he'll actually use!
3. Lip balm — Self-care is essential, whether guys realize it or not. 😉 Justin likes the mint flavor, so I recommend that!
4. Alfani Men's Texting Gloves — If you haven't tried these out yet, you should. These gloves let you to use your smartphone AND stay warm the same time.
5. Philips Norelco 3100 Shaver — Guys are all about practicality, so he's sure to appreciate a high-quality electric razor.
6. Candy — Who doesn't want candy for Christmas? Help him stock up on his favorite treat
7. Wool Ragg Sock Gift Set, 10″ Three-Pack — Thick warm socks are prefect for snow days.
8. TaoTronics Bluetooth Headphones — Everything seems to be wireless these days. Bluetooth headphones are great for working out or just being on-the-move. 
9. Aran-Knit Merino Blend Hat — I love a good beanie! Get him one in a color he likes that can be easily paired with lots of outfits.
10. Protocol HammerPlus Multi Tool — Men seem to have a need for keeping a tool or pocket knife nearby at all times. This is all of that (and more) in one!
__________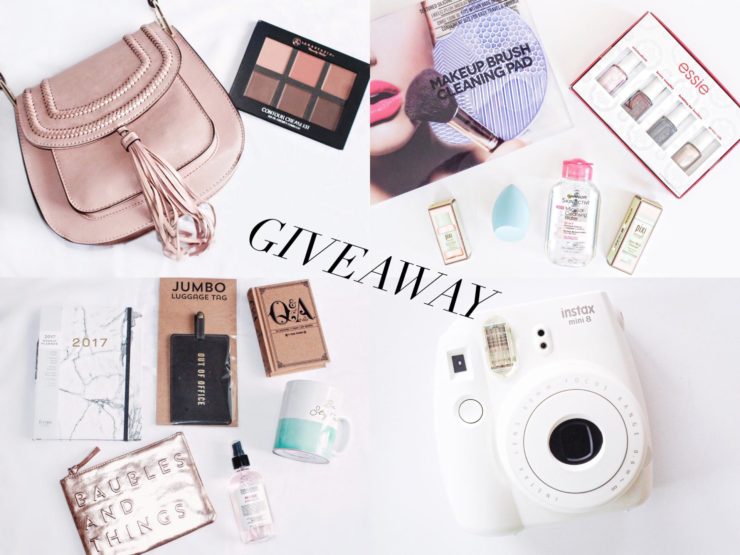 Thank you for reading and I hope you find this to be helpful during your holiday shopping this year! If you haven't entered my GIVEAWAY with Carrie Elise yet, you need to! We're giving away $300 worth of our favorite hand-picked items pictured above (many of which are featured in our gift guides and stocking stuffer posts) to one winner! You can read more about it in my last post and don't forget to enter! How do I enter, you ask? You can enter by:
Following both of our Instagram accounts
Following both of our Twitter accounts
Bonus: Tagging a friend in both of our Instagram posts about the giveaway
Bonus: Signing up for both of our email newsletters
This giveaway is open to everyone in the continental United States. The winner will be selected at random and announced on December 6. Happy Wednesday!