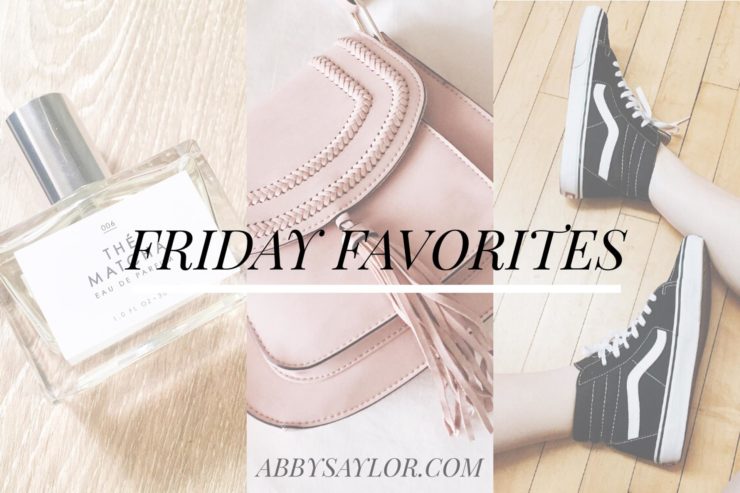 Hi guys! I hope you all had a great week! I'm overdue for a Friday Favorites post, so here's the fashion, beauty, and lifestyle favs I've been loving lately!
BAG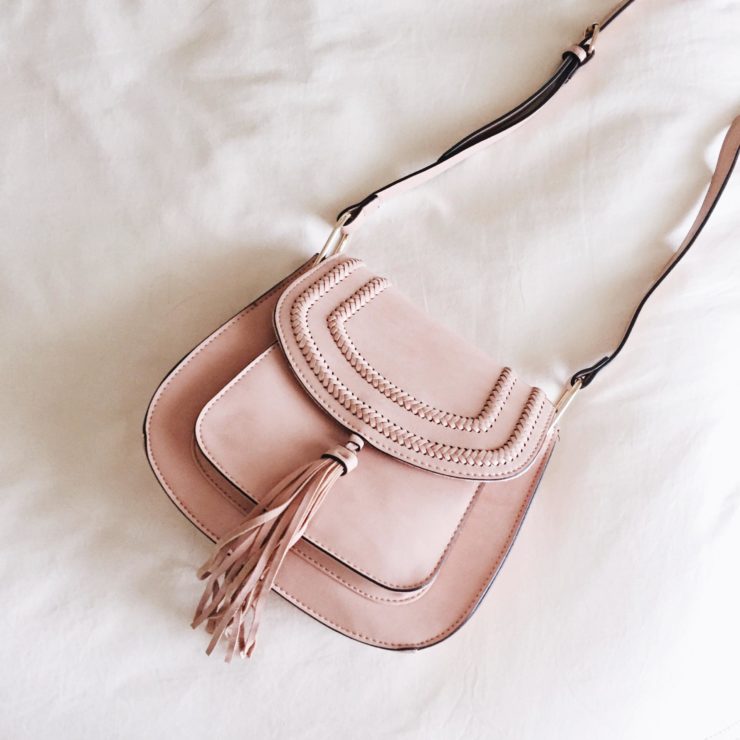 I'm so happy I stumbled across this bag while out shopping over the weekend! This purse style has been all over Pinterest and I'm so in love with it! This Franco Sarto bag was originally $88 and I snagged it for $25 at TJ MAXX. They had so many cute colors to choose from (including a navy blue suede one that I was also drooling over), but naturally I went for my go-to favorite color of the last year or so: blush.

The bag is amazing quality + feels and looks like it in person as well. This blush bag with gold hardware is very structured and I don't expect it to wear down anytime soon, if ever at all! It has a magnetic closure with outside pockets on the front and back for easy access, as well as a zipper pocket and two standard compartments on the inside.
PERFUME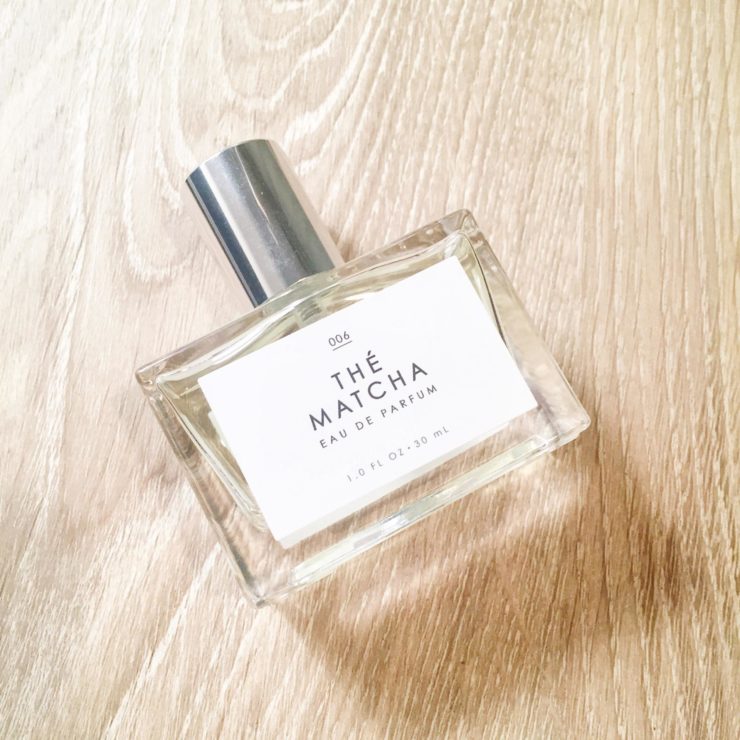 Like many of you out there, I'm a huge fan of Urban Outfitters perfumes. I picked up my first one in Oud Sahara back in the spring and fell in love! They have so many good scents, so I decided to try out Thé Matcha: described as "green tea, citrus, white flowers" on the UO website. It's great and Justin thinks it smells like cotton candy!
SHOES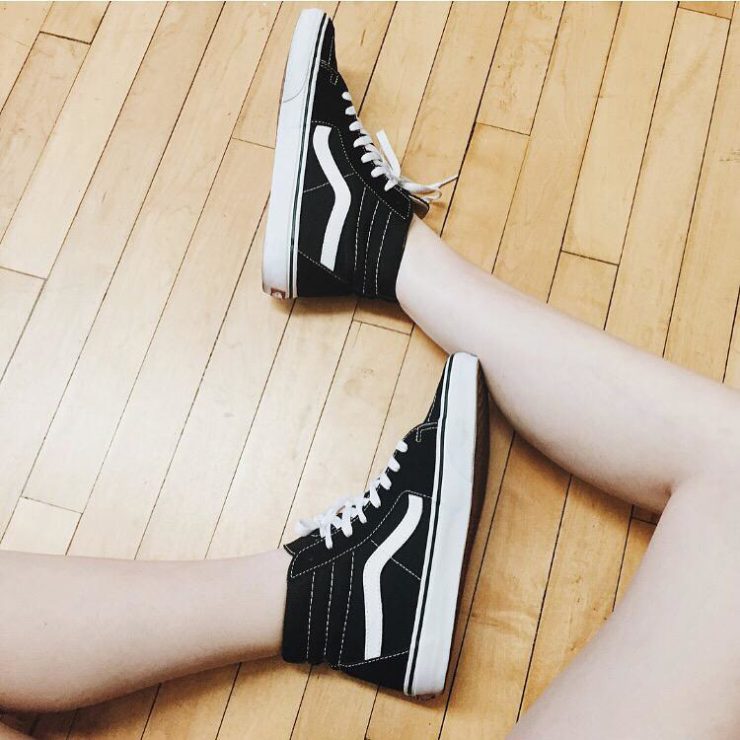 I've been wanting these shoes for a while now and I'm so happy I decided to pick them up last month! They can be paired with almost everything, from dresses to completely casual outfits. I find myself wanting to wear them with just about every outfit I put on. I almost cried holding the precious baby version of these at Journey's before actually purchasing the ones in my size — they're just too cute! And you best believe my future child will be matching me... :)
MAKEUP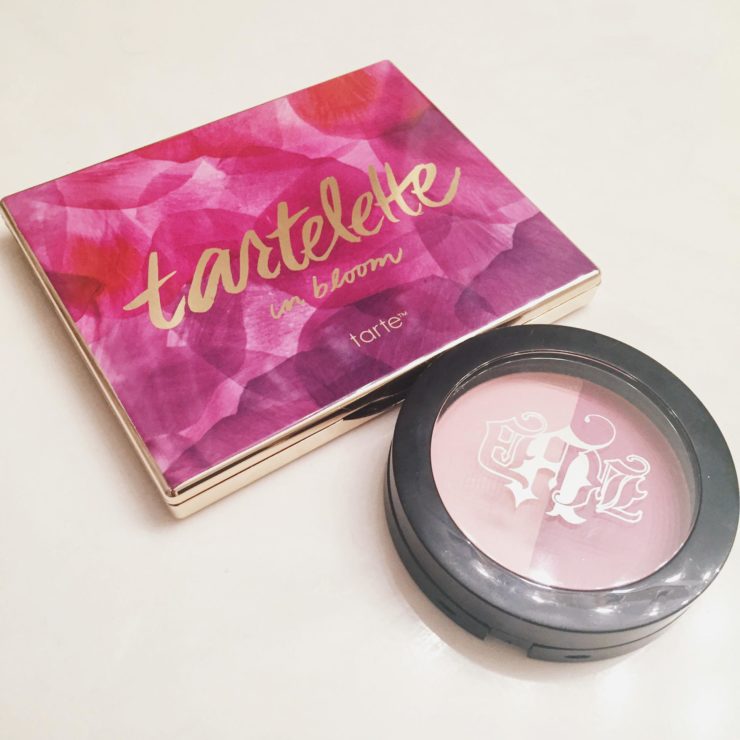 Who doesn't love trying out new makeup? I found this $25 Kat Von D blush duo for only $7 at TJ MAXX. If this post hasn't convinced you to go shop at TJ MAXX already, GO! I chose this one in the shade Bonnie and Clyde because it's cool-toned — I'm pale and I always gravitate toward the warm tones, but I think cool tones will suit me better!

Justin surprised me with this Tarte palette for my birthday on Tuesday and I LOVE IT! It's so pretty and the packaging feels so nice in your hands. I'm loving the quality so far!
PLANNER
I've been looking for the perfect planner since the beginning of summer and I just couldn't find one that was a good fit for me, until I found this one! This planner is by Sugar Paper at Target. It has both monthly and weekly spreads with boxes without lines (which was what I've been looking for), monthly and weekly goals, people to call, people to email, top 3 + more! I love that it's spiral-bound with a covering over it so it doesn't catch on anything when I toss it in my bag. I highly recommend it!
__________
What are you loving right now? Leave me a comment and let me know what you're current favorites are so I can check them out — and find an excuse to do some more shopping ;) Check out my previous Friday Favorites post if you missed it.

Also, I launched my Facebook page this week — so be sure to like that if you haven't already! Have a great weekend!