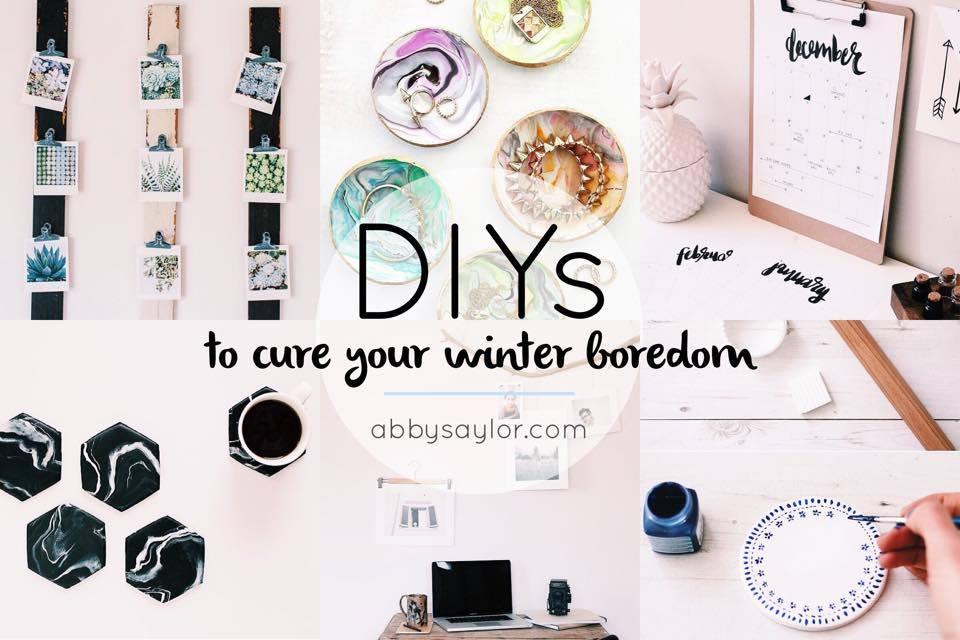 Hey guys! If you're anything like me, winter boredom is setting in and you're finding yourself feeling stir crazy — lacking motivation and creativity to find something to fill your time and entertain you. Today I'm going to be sharing with you some fun DIYs I found on Pinterest to try out in the comfort of your warm home, helping you to get inspired, have fun, and feel a little less sluggish.

CLAY BOWLS + COASTERS
I'm dying to try out this Anthropoligie inspired DIY! All you need are a few colors of clay of your choosing. Twist the colors together to create a marbled look and roll it flat with a rolling pin. If you choose to make coasters, cut out the shape of your choosing using an X-Acto knife, and then lay each coaster on parchment paper. Put them in the oven for 25 minutes at 275F to harden! Attach felt to the bottom of your coasters using hot glue or super glue to prevent them from sliding on your table.
The bowls are created using the same process — use a bowl you already have to mold your clay into the desired shape. The bowls can be used to hold jewelry, candles, keys, loose change, you name it!
Black & white coasters | Hand drawn designs | Anthropoligie inspired bowls
PHOTO DISPLAY
This is an eye-catching but inexpensive DIY to try out that will spice up your home or workspace. Obtain strips of wood or a branch to hang your photos on. Use metal clips or string to attach your photos (polaroids are especially cute), hang up your display, and you're done! I love this DIY because it contributes to a natural and effortless look, while still looking really interesting in your space! It adds depth to your photo display and serves as a fun conversation piece in any room.
NEW YEAR, NEW CALENDAR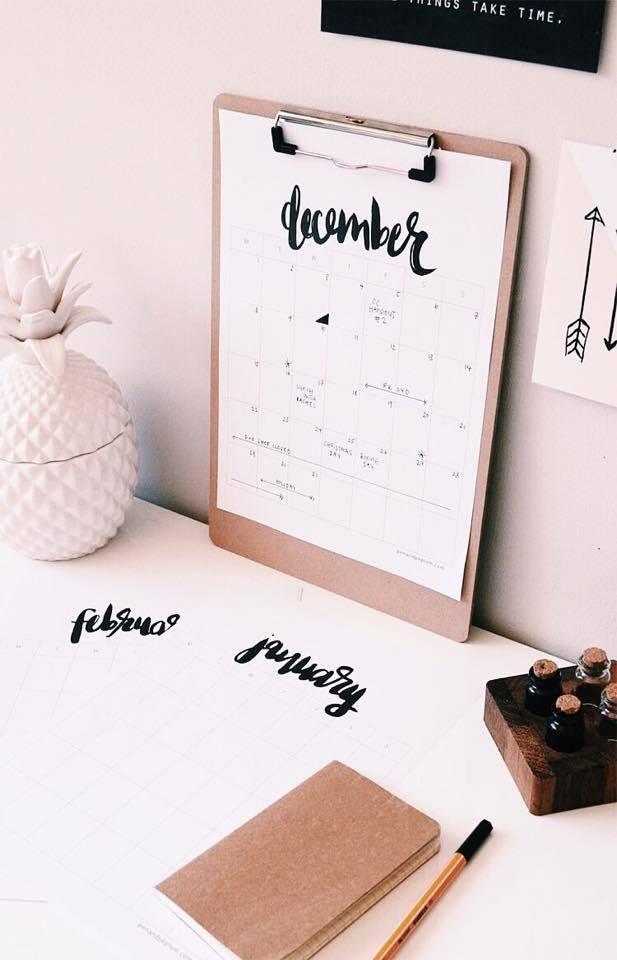 This is a simple DIY that can be done with a computer and printer, or just paper and writing utensils if you're feeling more daring! All you'll need is 12 pieces of paper to represent each month and a clipboard of your choosing. Design a grid similar to the one above to map out each day of the week, and add the name of the month in a fun font at the top. You can find plenty of downloadable printouts online as well if you're doubting your ability to design your own. Clip your calendar to your clipboard and you're done! You can hang it on your wall or lean it on your desk for a cute and functional decor piece. Use colors and designs that match your room for a personalized look.
Which of these DIYs are you most excited to try out? I'm dying to try out the black and white marbled coasters, so I'll be sure to update you on how that goes!
Thanks for reading!
xo // Abby