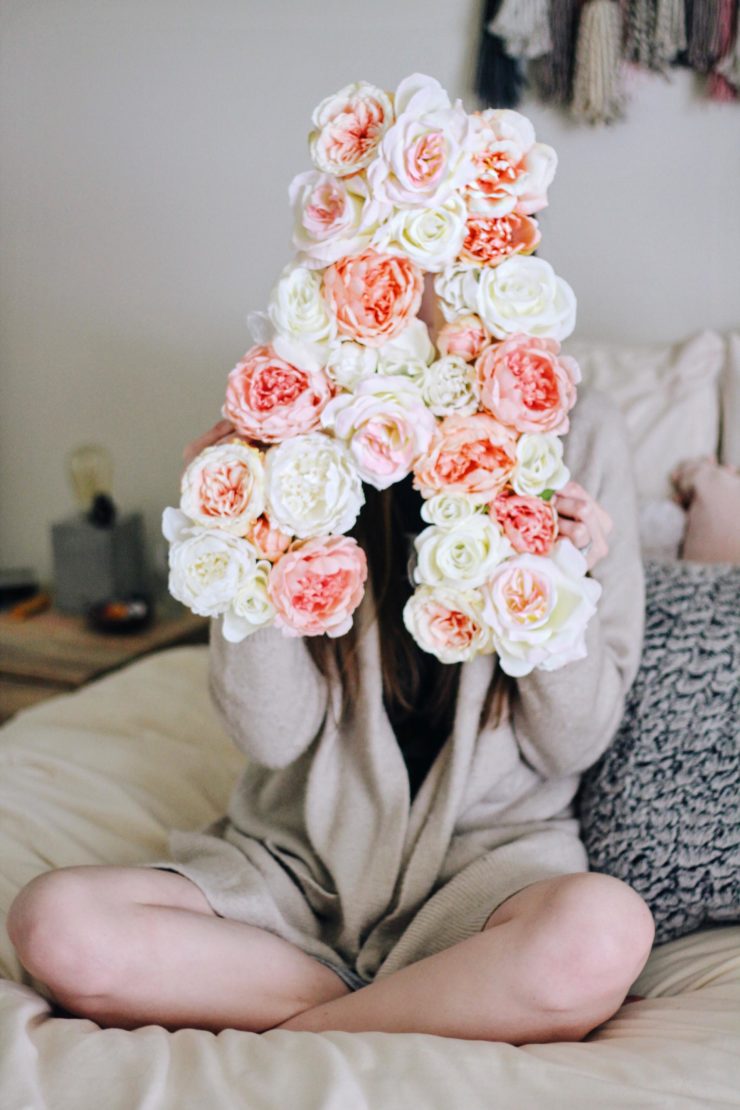 Hey guys! I'm sure you've seen these floral letters on Pinterest like I have, which I've been wanting to make for such a long time now. I finally had some time to make it during my time off work this week, so keep reading to see the supplies you need, where I purchased my items, different ways you can decorate with a floral letter in your space + some tips!
This DIY is extremely self-explanatory, but I still wanted to share it with you because it was so fun and relaxing to make. I did this on Monday afternoon while watching Forensic Files (my fave right now) and seriously had so much fun with it.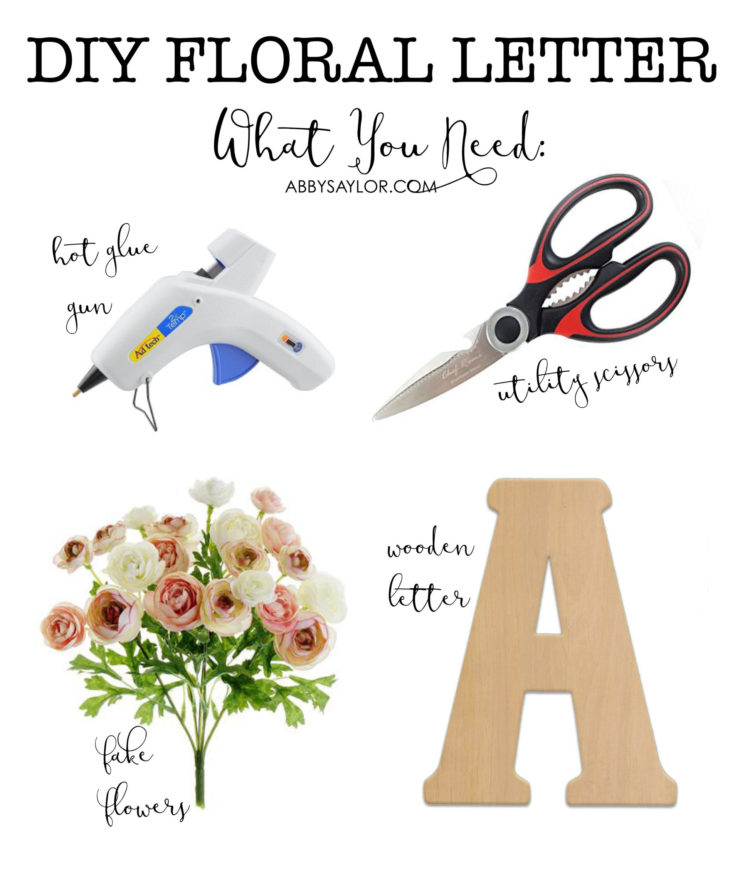 I picked up an unfinished wooden letter from Hobby Lobby ($12.99 + on sale for 30% off) and my fake flowers from Old Time Pottery in Greenwood (it's by TJ MAXX is you're a frequent shopper there like me!), which were priced at about $3.99-7.99 per bouquet. You can also scope out stores like Hobby Lobby and Michaels for any sales that may be going on so you can save some money. I suggest getting a variety of flowers in different sizes to help you fill in the gaps much easier. I purchased about six bouquets with 5+ flowers on each and I decided to go with light pink, peach and white hues since those are my favorite flower colors. I selected styles that are similar to garden roses, peonies and ranunculus.
I began by removing all the flower heads. Most of the flower heads will pop right off with a little pressure, but I found that some of mine had wiring all the way through, so Justin helped me trim those with utility scissors. I decided to also trim off all the leaves because I didn't want them on my letter, but that's optional of course!
I suggest laying out all of your flowers on your letter to determine where you want to glue them down. This will help you make sure that your colors are spread out and you don't accidentally clump the same flowers together. Make sure the stems are cut as short as possible and begin gluing down the flowers with a hot glue gun — a little glue goes a long way!
If your letter has a small hole of open space in it like mine (like B, P, R, etc.), you'll want to make sure that open space is visible so your letter is clearly distinguishable. To do this, I glued some of the petals together of the flowers framing that space to make them less open so they don't take up as much space. This helped my little "A" triangle show through much better.
There are so many ways you can decorate with it. I'm planning on propping this up on one of our dressers or next to our full-length mirror in our apartment until our wedding, where I'll then be using it as decor — likely in front of our seats at the wedding party table. I love that the "A" applies not only to my first name for now, but also to mine and Justin's last name when I become Mrs. Armbruster in June. So convenient! This would serve as great home or dorm decor to hang over your bed, on a small side wall, in your entryway or in a baby's room, or you can use it for parties and events like birthdays, bridal showers, weddings, baby showers, etc. The colors and flower types are totally customizable, making it super easy for you to create a letter that perfectly matches your theme.
If you make this DIY, be sure to tag me in your photos because I'd love to see it! Thank you for reading and I hope you all are having a great week so far. I decided to take a spring break vacation off of work this week and I've been LOVING having so much extra time to take blog photos, vlog and edit! It has seriously been so nice and the blog-workoholic in me is going crazy in the best way possible. Watch my latest vlog if you haven't already and leave your channel name in the comments below so I can check out your channel! 🙂
Happy crafting!