As many of us are, I'm so excited to decorate for Christmas! There's just something about Christmas decor that makes your home feel extra cozy. There are so many different styles and themes to choose from when decorating your home for the holidays to create a cohesive look for your guests — I'm sharing my recommendations with you today + links to my favorite festive items.
First and foremost, like many of us I'm sure, I always think it's fun to play Christmas music or turn on a Christmas movie while decorating. My mom always made hot chocolate for us to sip on while we set up the tree, which is a tradition I want to continue doing with Justin and our future kiddos!
When it comes to decorating, I think it's important to narrow your focus on a specific color scheme to establish an overall unified look. I would suggest limiting your color palette to 3-4 colors, or various shades of two different colors. This year I'm going with white/cream and mixed metals, with the tiniest touch of red — per Justin's request. 🙂 I'm all about soft neutrals (with maybe a pop of color) and various textures for a light, simplistic look.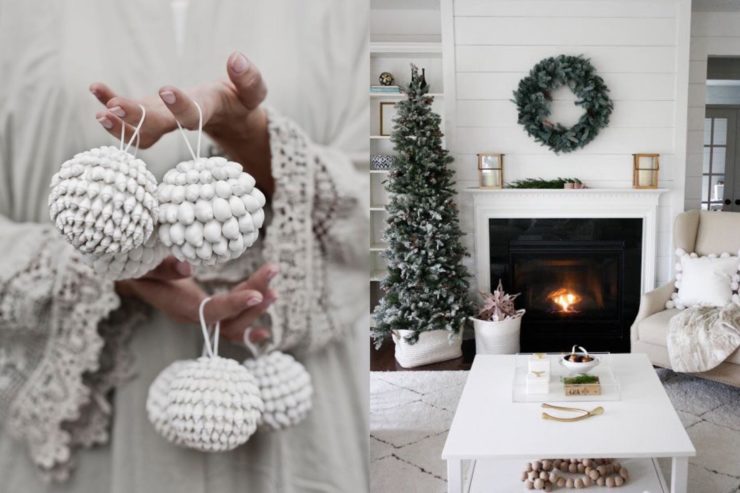 I'm obsessed with flocked trees! I love the frosted look and it really makes your ornaments pop. I suggest getting a pre-lit tree so you don't have to mess with tangled lights. I have so many memories of putting up the tree when I was little and spending at least 30 minutes untangling lights and plugging each of our sets in to see if they still worked. I'm always a white light fan as well because I think colored lights can sometimes distract from your ornaments, but to each their own! You don't have to spend a ton of money to get a nice tree — just be on the lookout for sales at your local stores! I suggest checking out Big Lots because that's where Justin and I got our tree. 🙂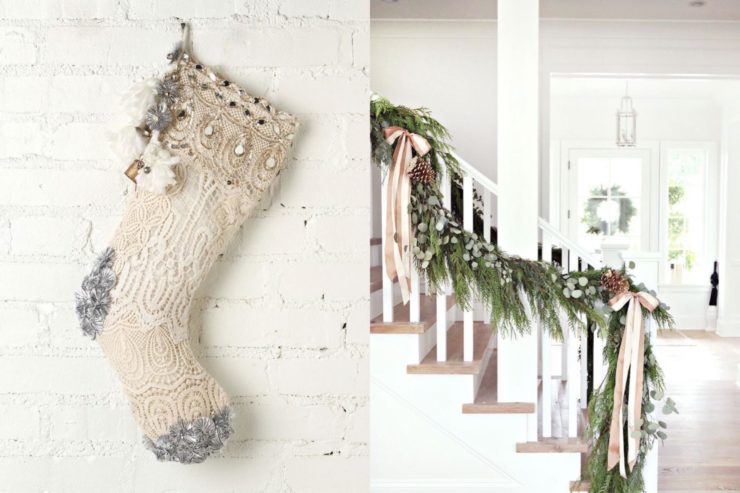 Stockings have always been one of my favorite holiday decor items because you can make them so unique and personalized! I like a mismatched look that follows a specific color scheme, or matching stockings embroidered with initials. I did a sneak peek of ours on my Instagram story yesterday, but be on the lookout for an entire post dedicated to our Christmas setup this time next week!
This is where you color scheme really comes into play! The ornaments you choose set the look for you home's overall holiday theme. This is a simple way to incorporate your own traditions, whether that is picking up a new ornament every trip you go on, or choosing an ornament each year that showcases a unique moment or milestone. Justin and I are going to go with the latter and get a new ornament each year — As I've mentioned in a previous post, so far this year we purchased a diamond ring ornament to represent our engagement and I want to find an ornament that represents our first apartment together as well.
How are you decorating for Christmas this year? What do you love most about the holidays? Leave me a comment! 🙂 Happy Friday!