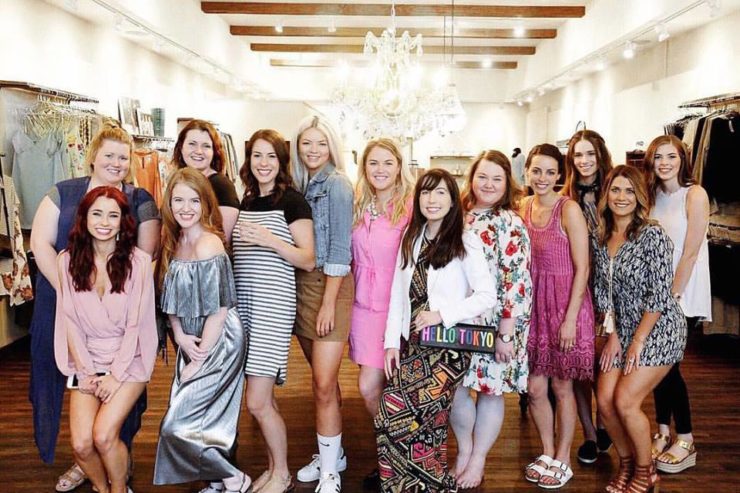 Hello everyone! I always like reading/hearing other people talk about their experiences at events and things, so here is a brief write-up on the blogger shopping event that I attended at Fira Boutique in Broad Ripple last week!
Carrie (carrieelisekho.com) and I attended the event together last Wednesday and had so much fun! This was the first time either of us had been to the boutique, so we were excited to check it out. This was also our first time meeting other Indy bloggers (other than each other of course), so it was nice to mingle with some new faces. As I'm sure you can imagine, it's kinda weird seeing people you know online in person for the first time because, naturally, you wonder if they're going to be like what you think they'll be like — everyone was really nice! It's great to meet people in my area that share the same passion.
The boutique has a great vibe and they treated us bloggers very well with swag bags, champagne and cupcakes. I purchased the prettiest handmade, green beaded choker by the brand Love, Poppy that I've loved wearing this week! Fira has a lot of basics as well as some fun pieces, like IND hats, graphic tees, candles, patterned dresses, lotions, etc. I definitely want to get my hands on one of those hats! You can click here to shop their store and learn more about the brand.
Follow me on Instagram to keep up with my Insta Stories when I go to blogger-related events like these! Also, let me know if you'd like me to continue to do little posts like this in the future. I linked as many of the Indy bloggers pictured in this photo as I could if you'd like to check out their blogs — if I didn't include you, please let me know! 🙂
Thank you for reading & I hope you all are having a great start to your week!
Trendy in Indy // Shades of Green // Foreign Daily // Into Indy // Indy Dressed // The Pretty Plus // The Moon and She // Britt Behind The Scenes // Carrie Elise & Kho.