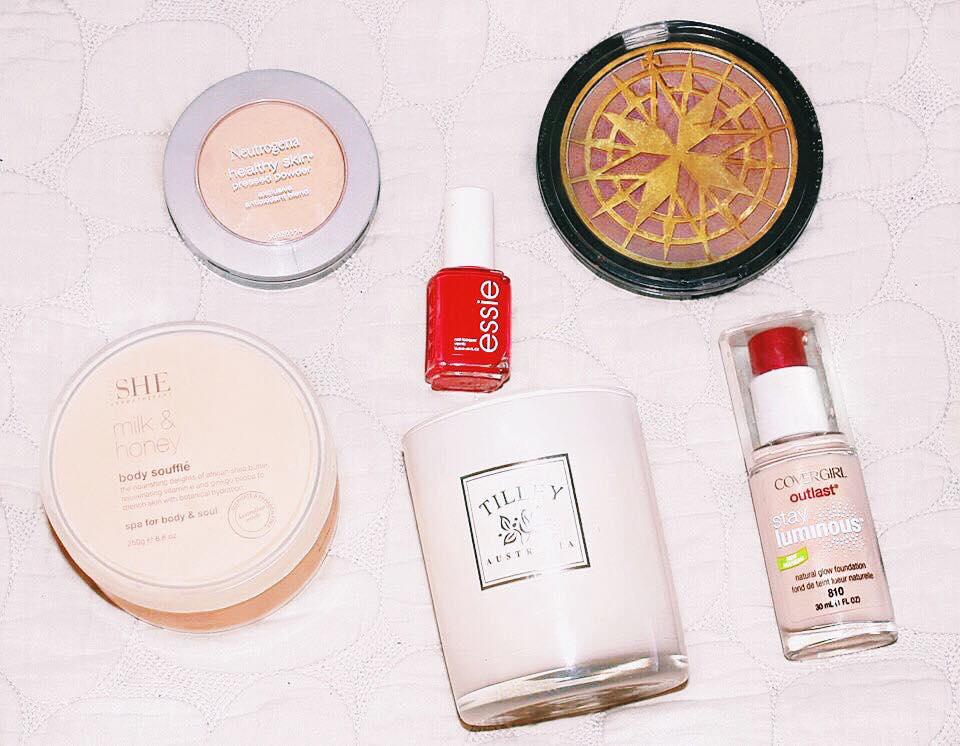 Happy Friday! It's time for my monthly favorites! At the beginning of each month, I'll be posting a favorites wrap-up of the previous month's picks to share with you, which could include everything from beauty products to food & music. Here are my August favorites.

I've really been loving the Neutrogena Healthy Skin Pressed Powder for setting my foundation everyday. I'm prone to having oily skin, and this powder is the best one I've found so far for keeping my face matte all day without making my skin feel heavy or excessively-powdered. I use shade Fair 10 for my fellow pale girls out there that may be wondering.
This Essie Nail Polish in Ole Caliente is an oldy but goody for me and has been on my toes all month. I'd classify it as a neon red and it really pops with any pair of open-toed shoes you wear.
When the Disney makeup collection was released at Walgreens, my inner 90's girl had to fight the urge to buy every item on the shelf. One of my favorites that I purchased is the Pocahontas Dare to Dream Bronzer. The powder is quite large, so you get a lot of bang for your buck, and it's very build-able + a medium warm color that will suite all skin tones.
My next favorite is the S.H.E Milk & Honey Body Soufflé. I'd never tried any products from this Australian brand previously, but I must say I am now a fan. It has a nice warm, sugary scent and a bit of shimmer – so it's perfect to put on before you leave the house.
Like the body soufflé, this Tilley Candle in Vanilla Bean is also an Australian brand. The scent is light and airy, so it's perfect for people that don't like highly fragrant scents and just want something light for their bedroom or bathroom. It's advertised to burn for 48 hours – so that's also a plus!
I purchased the CoverGirl Outlast Stay Luminous Foundation a few weeks ago and it's my favorite foundation I have ever used. The previous foundation I was using was from CoverGirl as well, but even the lightest shade was too dark for me – however, the lightest shade (Classic Ivory) in the Stay Luminous Foundation is perfect! It's a light, full coverage foundation and it honestly feels like I'm not even wearing any makeup. It blends perfectly and stays on all day – I'd definitely suggest trying this one out!
Have you tried any of these products and what are your current favorites?