Happy October, friends! The fall vibes really hit me full force this weekend with the slight drop in temperature (and Justin and I watching Hocus Pocus last night probably helped), so I wanted to dive into the season by sharing some affordable fall outfit ideas. If you're like me, you want to wear all the latest trends without breaking the bank, and today's post will help you do just that! Keep reading for three outfit ideas with links to purchase each.
Before I jump into this post, I just want to say that Justin SAVED THE DAY and happened to have a backup memory card when we showed up to the park to take these photos (ft. my new short hair for those of you who didn't know I chopped it!) with a card-less camera… ahhh! I'm so glad he happened to have another one on hand in our gear bag so we didn't have to drive back home to get one. Go Justin! If that's not the true definition of a blogger husband, I don't know what is. 😉 Alright, back to the clothes.
BELL SLEEVES + FUR ACCENTS
This is one of my favorite looks because it's equally warm as it is trendy! I love a good lightwash jean year-round, and the bell/ruffle-sleeve top and fur-accent boots keep this outfit on trend and cozy for crisp autumn days. This soft green shade isn't a color I'd normally associate with fall, but I'm actually really loving it — so don't think that you have to stick to dark hues and neutrals just because it's chilly outside!
I snagged the sweater I'm wearing from TJ MAXX, but you can find similar styles at affordable prices below — I do suggest scoping out your local TJ MAXX though because they have so many amazing sweaters out right now for under $30!
My fur boots were an awesome Forever 21 find a couple years ago, but I've linked some below that give a similar vibe in a few different styles and colors to add a pop of texture to your look.
I think everyone could use a go-to pair of lightwash jeans in their closet. The light shade keeps your outfit bright and laidback, which is what I'm usually striving for. I purchased my jeans from TJ MAXX, but below are some others I love.
Velvet bags are so fun! I snagged mine from TJ MAXX (I swear I worship that place), but below are some other styles that give off the same vibe. You can stick with a neutral shade to pair with lots of looks, or grab one in a pop of color like my purple one to spice up your outfits — I'm loving the 90s vibes!
CLASSIC LAYERING
Something I love about fall and winter is that you get a lot more chances to show off your fashion sense by layering your favorite pieces. For me, I like to stick to soft textures that keep me comfortable and warm, and also allow for removing extra layering throughout the day if it gets warm in the afternoon.
I believe I snagged this scarf from Forever 21 a year or two ago, but below are some other plaid styles in the chunky, oversized style like I'm wearing.
My soft cream sweater was an awesome TJ MAXX pickup — I suggest getting one in a neutral shade with some fun detail (like lace-ups on the side) to mix and match with skirts, dresses, jeans and trousers.
My green mini skirt is from Dry Goods, which was such a great find for me since I'm tall and most short skirts end up being too short on me — this one is perfect. Below are some other fun ones with button and zipper detailing.
Slip-on sneakers are a must for me when I'm on the go! They're super comfortable and literally look good with every outfit. Mine are Steve Madden from TJ MAXX, so I recommend checking there or clicking through the options I selected below. 
A denim jacket is another great piece for layering to add extra detail or warmth to your look. The one I'm wearing is from Forever 21 at an inexpensive price — below are some similar budget-friendly ones. 
I got these round sunglasses from Urban Outfitters and I've worn them so many times since! They're great quality at a low price and I love the retro vibes they give off. 
My structured suitcase-inspired bag was yet another TJ MAXX find (the brand is Most Wanted if you want to try to look for it). I'm really into structured bags for the fall and winter season.
EDGY LEATHER, DENIM + PRINTS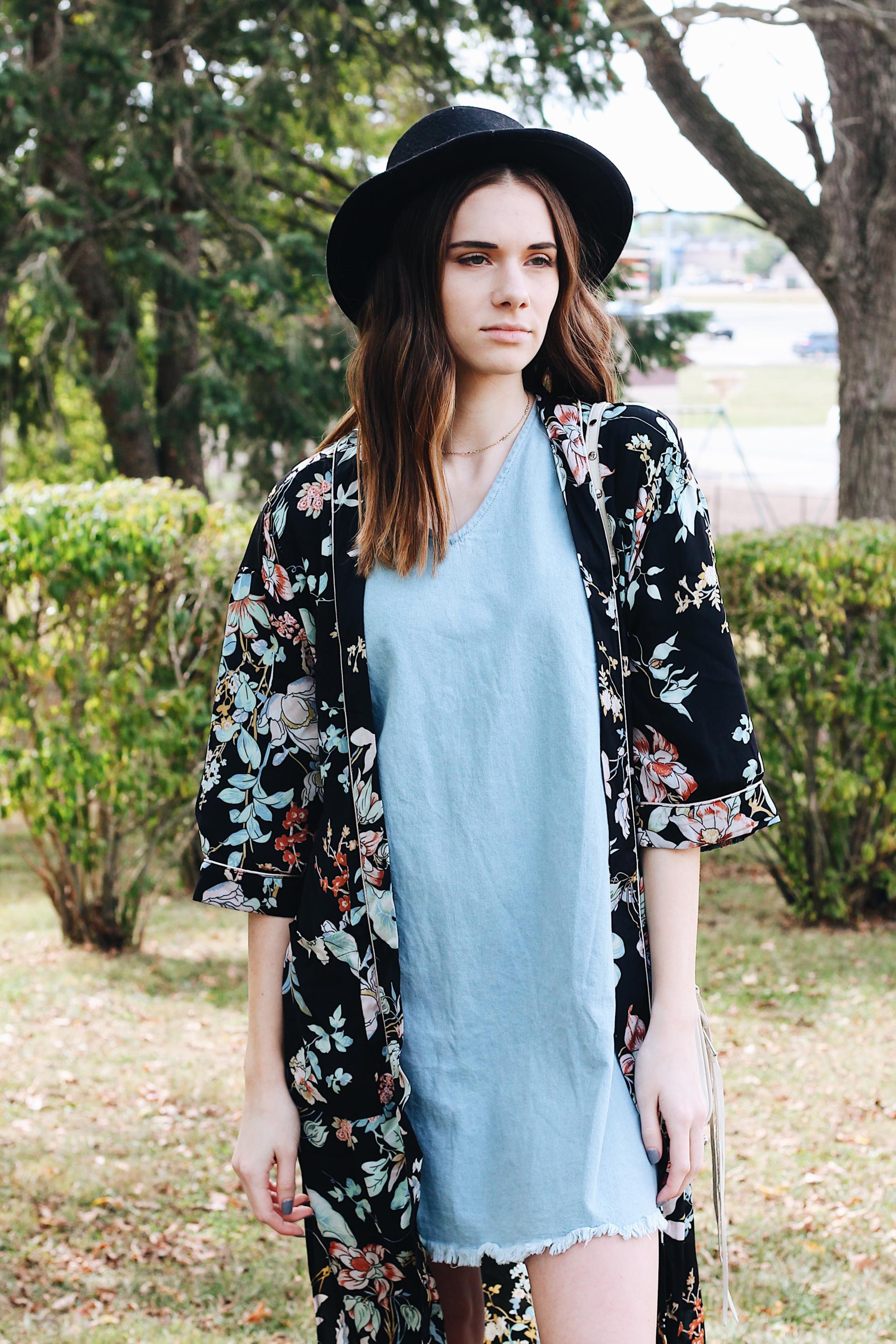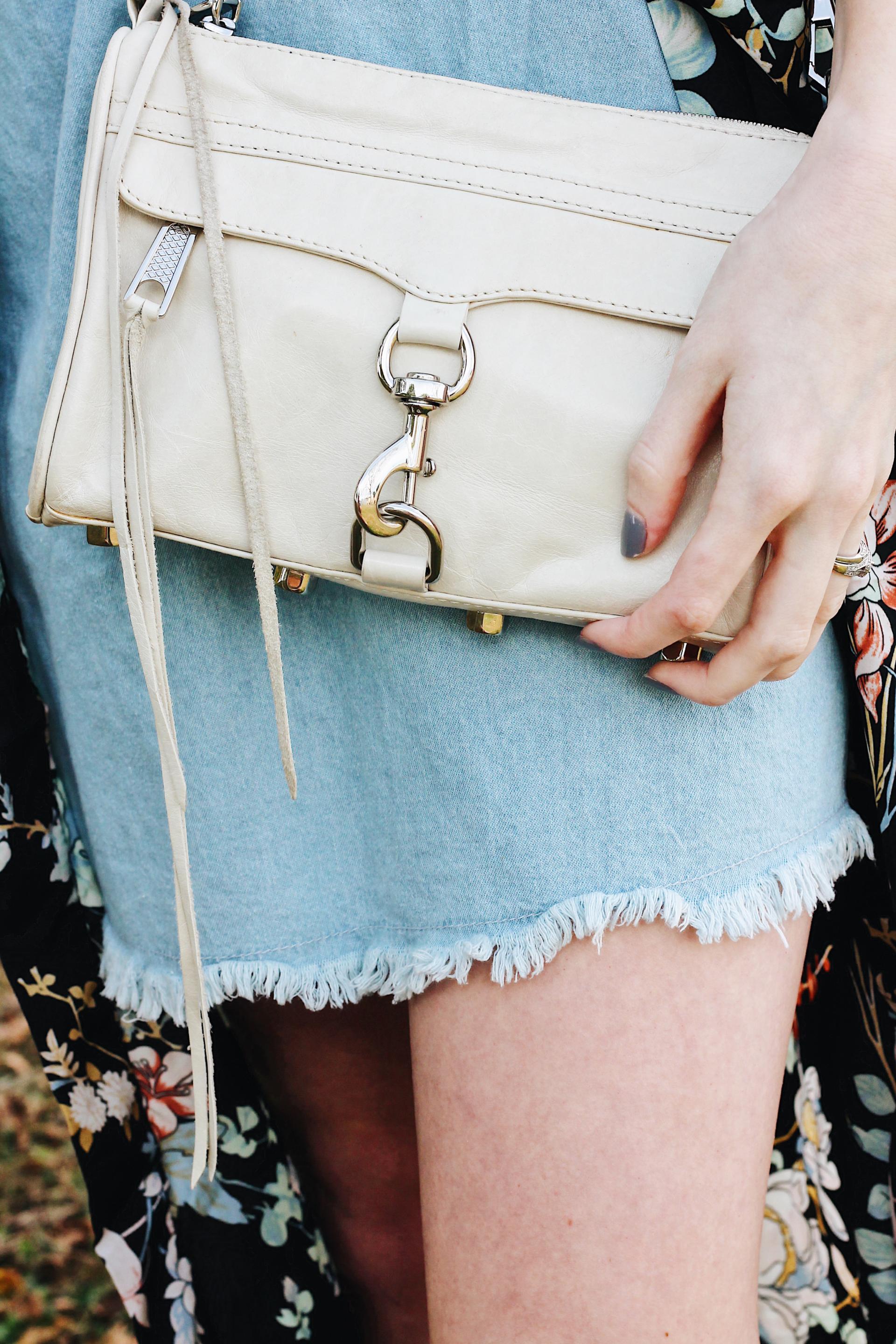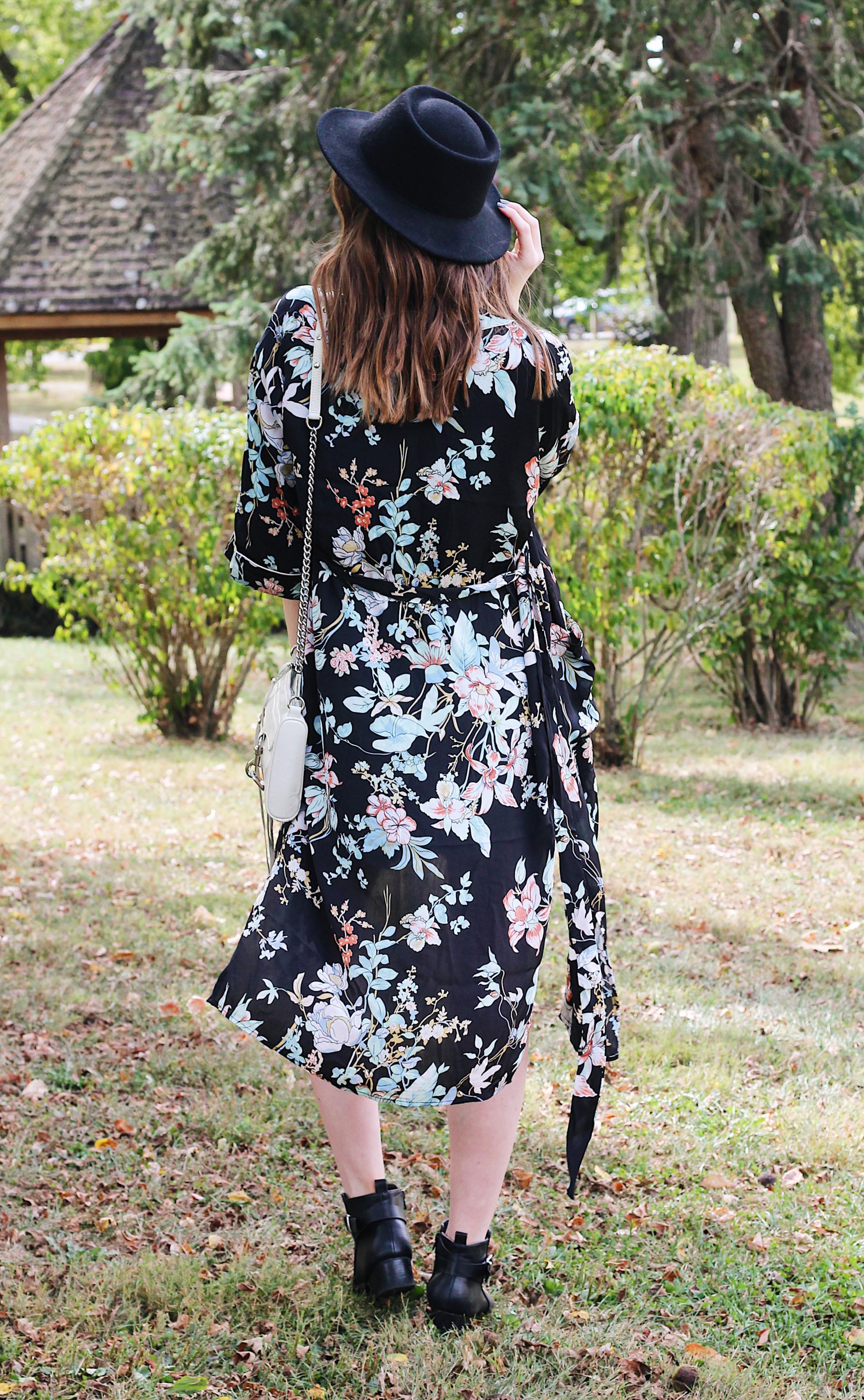 I'm always down for a good leather and denim combo with prints for a touch of personality! I'm so into the pajama-duster trend (or robe as my mom likes to call it) and love how fashion-forward it makes me feel over a simple denim dress and ankle boots. I love the chain crossbody bag for a touch of elegance and a hat to bring in more fall vibes.
My duster is from TJ MAXX and I'm loving these ones below as well! I want to get a silky solid colored one next to wear over sweaters.
I struggled to find inexpensive denim dress options online! Mine is from TJ MAXX with a denim belt I chose to remove for this look, but I bet you can find similar styles at H&M and Forever 21 as well.
A go-to pair of black ankle boots are a must for me. They're so easy to pair with everything and they blend seamlessly with all of my fall outfits. Mine are from Forever 21 last year.
I finally decided to bring back out my Rebecca Minkoff mini mac bag this year — although this bag is high end, you can find so many other ones at affordable prices that have a similar look. Below are some of my faves!
A hat — another classic! I'm loving the wide-brim ones and "train conductor" styles this fall, so below are some for you to browse from Forever 21 like mine. 
Feeling inspired yet? I hope so! Let me know which outfit idea is your favorite and what fashion items are a must-have for your fall outfits this year. Have a spooky week! 😉