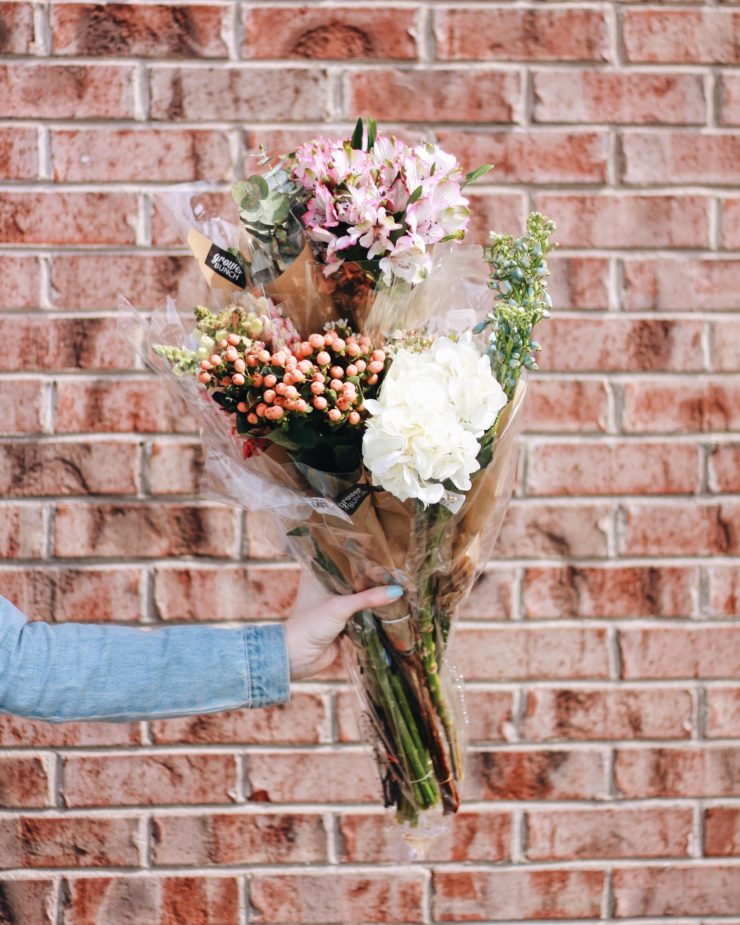 Are you wanting to take your photos to the next level? I'm not a professional photographer whatsoever, but I've been blogging for a year and a half now and have been striving to improve my photography game with every passing month. I've been wanting to share what I've learned with you guys, so keep reading for some of my beginner-friendly tips and tricks for upping your photography game to improve your blog and Instagram feed!
Get inspired.
Sometimes coming up with unique shots and photo layouts can be difficult. I like to scroll through Pinterest to get inspired and come up with new ideas and props to incorporate (especially in flat lays!) that I haven't tried before. I think the best blog and Instagram photos consist of a healthy amount of variety as well as zoom, with some photos being up close and some taken at a distance. Be sure to scope out local destinations for cool backdrops to incorporate in future photoshoots — I've taken photos everywhere from outside my apartment building, to cool murals and side walls of gas stations, so there's definitely more potential backdrops around you than you think! Remember to save a few inspiration photos to your phone so you can refer back to them when capturing shots of your own.
Play up your angles.
I sometimes get in the habit of taking my outfit and product photos the exact same way with identical framing and angles, which isn't something I always want to do. Since Justin takes my outfit photos for me, I have him stand in for me so I take an example shot to show him how I'd like my photo to be framed. This is one of my biggest tips because it can be extremely difficult to explain what you want your shot to look like unless you actually show someone! This lets me play with some different ideas so my photos don't end up all looking the same. Variety is fun and keeps your viewers' attention, so get creative!
Utilize focus and foreground.
Ahh, this is a fun one. Play around with focus and foreground by holding products out in front of you and focusing in on the small details. Not only are these photos pretty, but they let people examine any given item up close. This provides a totally new angle on anything you're photographing and it's great to incorporate these kind of shots in a photo set to provide a variety of perspectives. Try out over-the-shoulder shots, close-ups of your hands doing or holding something, etc. to spice up your images.
Work on your editing techniques.
I believe great editing is half the work behind capturing the perfect photo! Start with a good photo and make it amazing with some simple editing techniques. I thoroughly enjoy editing photos and could spend hours doing it, but find a system that works for you to cut down on time. Create/purchase presets and note your favorite filters and editing adjustments. I always think a bit of brightening, sharpening, and saturating to make the colors pop are great edits to add. If you'd like to know how I edit my photos, you can read my most recent post on that here where I walk you guys through the apps and settings I use to take my photos from ehhh to YASSSSS!
Know the difference between not enough light and too much light.
This can be tricky. Not enough light often makes your photos dark (duh), under-saturated and grainy, while too much light washes out your photos and takes away necessary contrast and color. Overcast weather is perfect for outdoor photos, and you'll definitely want natural light for capturing images indoors. Stage your shots by a window or out of the direct sunlight to find the perfect happy medium. Though beautiful iPhone photos are totally doable, I suggest investing in a high quality camera at some point to help you out when lighting conditions aren't in your favor.
If you have any more photography tips for me, please share them in a comment below! Have a great weekend, friends!