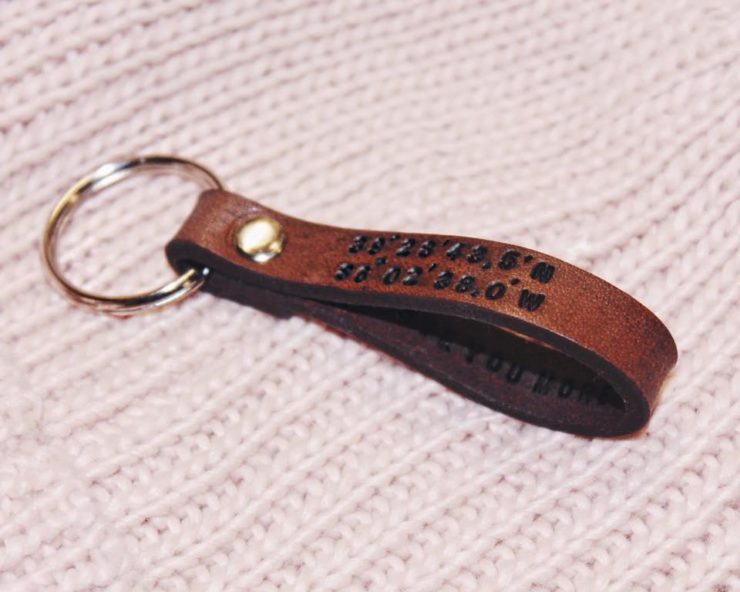 Valentine's Day is all about giving a special someone in your life something totally personal that comes from the heart. It's fun to be different and surprise your Valentine with something other than a standard box of chocolates and a card — something that's memorable, expresses your love and appreciation, or can be used for years (you know, men like practical gifts). Here are 20 gift ideas for 2017!

Gag gift
If your Valentine can appreciate a good laugh, it's so fun to surprise him with something totally ridiculous. I gave Justin a pair of custom boxers with "ABBY'S" written on the butt (yes, seriously) a couple years ago and he LOVED it! It was so funny and it's something we talk about (and he STILL wears) to this day!
Lanyard
If your guy is anything like Justin, he probably carries his keys on an old, worn out lanyard. Last year for our 2-year anniversary, I gave Justin the custom leather lanyard pictured above that he loves. I customized it with the coordinates of where we met and "I love your more" on the inside, which are nice little details. 🙂

Custom chocolate bars
This is a gift I almost got for Justin one year because I think it's so cool. You can customize a chocolate bar online with his favorite candy and treats inside of it. It's a fun and totally unique gift he won't expect!
Scavenger hunt date
If the two of you are more activity people vs. gift people, it would be super fun to plan a scavenger hunt date for you to do together on Valentine's Day. Leave clues at all of your most memorable places you've been as a couple and go to each to reflect on your memories there together.
Penny key chain
I got Justin and I matching penny key chains for our 1-year anniversary a couple years ago and it's one of my absolute 

favorite

gifts I've ever given! It's so unique and we've both been carrying them on our key rings ever since.
Tickets
Surprise him with tickets to see his favorite team or band. Make sure you do your reasearch though so you don't end up spending way more money than you were planning to. This serves as a cute date night for the two of you as well.
Journal
This is a perfect gift if you'd like to start journaling with your significant other. Justin and I have engagement journals that we write to each other in that we'll exchange on our wedding day. You can get custom ones on Etsy with your initials on them like we did!
Passport cover
This is fitting if you and your Valentine are big travelers or plan to travel more this year. You can get his initials printed on it and choose a leather color he'd like best to make it totally unique to him. Here are some cool ones.
Picture frame
This is a classic gift that literally anyone would love. Justin gifted me a frame with a picture of us in it one year and it's been sitting on my dresser ever since! It would be cool to add a note inside for him to find when they change out the photo one day.
Photo album
This is essentially an extension of the picture frame that can get even more personal. You can include ticket stubs and receipts inside to document your memories together.
Baked dessert
Men love food, so you can't go wrong with this one! Bake his favorite dessert, wrap it up in some red/pink decorations to make it V-day themed.
Massage gift certificate
This is a great gift for someone who's an athlete or has been stressed and could use some pampering. I surprised Justin with a massage gift certificate one year for Christmas and he absolutely loved it! The great part about this gift is you can spend as little or as much money as you want, depending on how long you'd like the session to be.
Blanket
If the two of you love watching Netflix together, a blanket would be a useful gift to use when cuddling up on the couch for a movie night. A blanket is something he'll use for years and years!
Shoes
If they're due for a new pair of work, gym or casual shoes, this is something he'll really appreciate. Sometimes it's just nice to give someone something they've been meaning to buy so they can save that money and use it for something else.
Watch case
This is the ultimate gift for someone who loves watches, collects them or wants to start! You can get ones with his initials etched in glass on Etsy.
Bag
A lot of guys are bad about having the proper bags for each occasion. If he doesn't have a toiletry bag, gym bag, work satchel or laptop bag, this would be such a useful present.
Jacket/coat
If you know his taste, you can choose one that he'll really love. I always get tired of wearing the same jacket everyday, so it's nice to have multiple options to choose from for different occasions.
Something handmade
Regardless if you're artistically talented or not, it's so special to receive something handmade from someone you love. Pinterest has some awesome ideas if you're feeling stumped — click here to see some.
Book
This is obviously a fitting item to gift if he's a reader. If he's more digital, an iBook or audio book would be perfect. If you buy a physical book, you can write a sweet note on the inside cover for him to always look back on.
Practical gift
Again, I can't say this enough: men like practical gifts. If he's in need of work-out equipment, a tool set, etc., he'll appreciate you noticing that.
What is your favorite Valentine's Day gift you've ever given or received? Leave me a comment and let me know! You can read my V-day post from last year here (one of my favorites!) to see what Justin and I got for each other and how we celebrated the holiday.
Thank you for reading! My fourth newsletter will be going out this weekend, so be sure you're subscribed to my email list to receive it. Scroll to the bottom of the page to sign up.
P.S. My first vlog went up this week, so watch it here if you missed it! 🙂