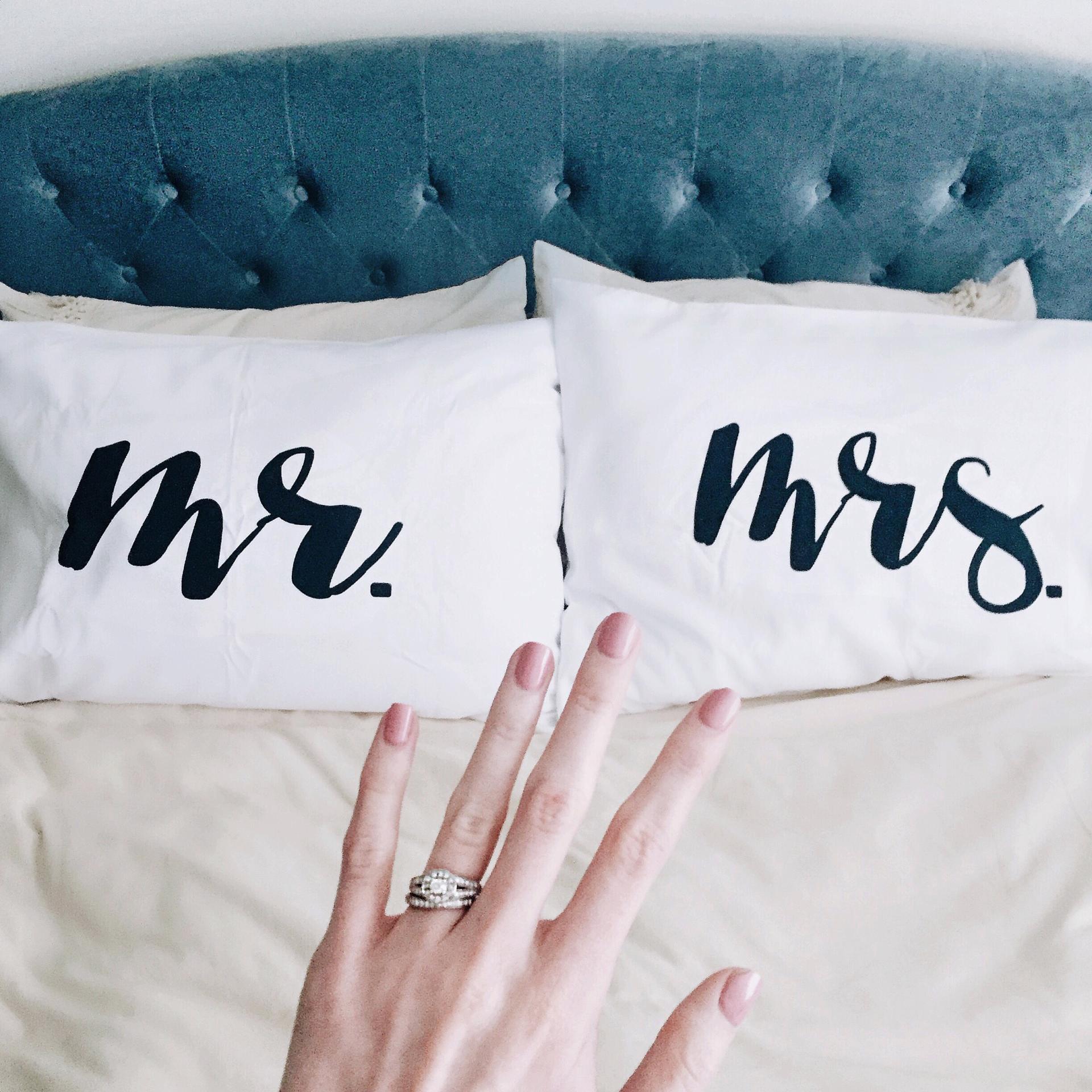 Now that Justin and I are married, our relationship has yet again been taken to the next level — and with that comes exploring new things and enjoying activities that celebrate this next chapter in our lives. In celebration of this change, here are 10 fun things to do as newlyweds!
Customize your belongings with Mr. and Mrs. decor
Though this is completely unnecessary, it's a super fun and cute way to celebrate your new titles! My sweet friend Natalie got me these Mr. and Mrs. pillowcases for my bridal shower a month ago (they came in the cutest packaging by the way!) and I was

so excited

to put them on our bed! I also love our coordinating luggage tags and passport covers, perfect to take on our honeymoon.
Fill a photo album with newlywed memories
We've received a couple photo albums for our engagement and wedding over the last year that we plan to fill with memories from our first year of marriage. I know this time in our lives will only be a memory years from now, so we want to capture as much of it as we can to look back on and share with our kids one day.
Create new traditions
Whether it be taking a trip for your anniversary every year, planning a weekly date night, etc., creating traditions as couple is a great way to build your relationship.
Plan your first holiday card
As simple as it is, I'm so excited for to send out our first Christmas card! This is a simple way to wish your friends and family a happy holiday while giving them something they can keep to remember your new marriage.
Throw a house warming party
Depending on what your living situation is, invite some friends and family over to celebrate your lives together in your new place. Host a game night or pitch-in dinner to get everyone involved.
Make a save the date and wedding invitation memento
This is a great way to display your mail-outs and utilize them as decor in your home. If you're anything like me, a lot of thought went into selecting your save the dates and invitations, so putting them on display comes so naturally to you. You can get super creative with this by utilizing cool frames, shadow boxes, pin boards, hanging photo lines… you name it!
Journal
I plan to journal throughout our first year of marriage, specifically following our wedding and honeymoon. I don't want to forget all the details and special moments as the years go on, so writing everything done is the perfect way to ensure those memories won't slip away. I received the cutest leather journal for my college graduation last summer that'll be perfect for this. You can even write in separate journals to each other and exchange them on your first anniversary.
Get a pet together
Now this is only is you're ready and have the proper space for one, but Justin and I can't wait to do this when we get a house. 🙂
Draft a five-year plan
This may not sound fun to some of you, but planning out your next steps as a married couple helps you to set goals and work toward achieving milestones together. Doing this always gets us motivated and excited for what's to come!
Make a big purchase together
When I say "big" I don't necessarily mean pricey — but purchase something special within your budget that the two of you have wanted for a while. This can be anything like bikes to go on rides together, board games, new furniture for your home, etc. Consider it a wedding gift to yourselves!
What are some of your favorite things to do as newlyweds? As you may know, Justin and I are in St. Lucia this week — so be sure you're following me on social media (Instagram, Twitter and Facebook) to see photos of our trip!